From super high end processors like the AMD Athlon64 FX to exotic cooling systems and of course dual videocards, for anyone who likes to have the best and the fastest PC hardware it's an expensive hobby. Despite exorbitant prices of most computer components, system memory is one area where the situation is much more reasonable.
DDR-2 memory prices have fallen rapidly over the last year and no longer hold a price premium over conventional DDR, so if you've just installed a game like Battlefield 2 it is certainly a good time to beef up system memory. Battlefield 2 is especially well known for requiring at least 1GB of installed RAM memory to run smoothly... so why not aim high and upgrade to 2GB of installed RAM? To see what effect 2GB of system RAM will have on Battlefield 2, and a couple of other game titles PCSTATS is testing out a (2x1GB = 2GB) set of Corsair's dual channel Twin2X2048-6400 PRO PC2-6400 DDR-2 memory. This is exactly what the doctor ordered for any memory-strapped dual core Intel Pentium 4 PC!
Each of the Corsair Twin2X2048-6400 PRO 1GB DDR-2 modules are rated to run at 800 MHz - just the right pace to keep a dual core CPU happily feed with enough memory bandwidth. Team that up with the Twin2X2048-6400 PRO's fancy activity LEDs and we have some pretty nifty 1GB-capacity memory modules that retail for a little over $470 CDN ($400 US) for the 2GB set.

Corsair TwinX2048-6400 Pro Memory
Each of Corsair's Twin2X2048-6400 PRO DIMMs use a custom aluminum heatspreader. The LED activity lights are embedded along the top. At 800 MHz, the Twin2X2048-6400 PRO memory is rated to run with 5-5-5-12-1T timings. That may sound loose, but bandwidth plays a more significant role with dual core Intel Pentium 4 processors than timings do. The default voltage is 1.9V.
Differences when Testing DDR-2
With dual core processors thrown into the mix, testing DDR-2 RAM is a lot more difficult than before. Socket 775 Pentium D processors do react positively to lower latency timings, but bandwidth is the bigger issue. This makes a lot of sense if we consider that an Intel Pentium D processor is essentially being dropped into Pentium 4 subsystems that was only really intended to support one processors' worth of memory bandwidth requirements.
From PCSTATS Lab tests, even though the second core sits idle for many benchmarks, bandwidth is still the primary issue with Intel Pentium D processors since the OS does communicate to the second core while the benchmarks are running. With that in mind, when it comes to testing out DDR-2 memory modules, we are really only interested in seeing how high the memory can clock with latency timings coming in as a far second concern.
Overclocking the Corsair Twin2X2048-6400 Pro

Overclocking Results:
There are some rumors that say overclocking higher density DIMMs is more difficult than lower density memory. I would have to say this computer urban legend is half true; early 1GB+ memory modules are indeed more difficult to overclock. However, as the manufacturing processes have become more refined over time, the differences between 1GB and 512MB memory modules is disappearing with respect to overclockability.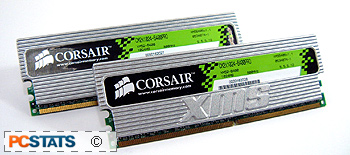 Overclocking the Corsair Twin2X2048-4400 Pro memory on an nForce4 SLI Intel Edition motherboards is a bit different than what we're used to... With motherboards based on this popular nVidia chipset users must raise the bus speed instead of the FSB. The number sounds more impressive, but don't let that fool you, the method is the same.
Starting at 800 MHz, I increased the speed in 20 MHz intervals, which basically works out to 5 MHz FSB jumps.
The Corsair Twin2X2048-4400 Pro memory handled overclocking quite well, and it wasn't until 900 MHz that it began to experience some stability problems (ie. BSOD while booting, locking up in the BIOS). Increasing the memory voltage to 2.0V (up from the default 1.8V) solved that stumbling block. The Twin2X2048-4400 Pro memory then came to an abrupt halt at 925 MHz, anything higher and the system simply refused to POST. It was quite puzzling since the system seemed perfectly stable at 925 MHz, but nevertheless increasing the voltage past 2V certainly didn't help.
After tweaking for a bit, we settled for the 925 MHz bus speed. That translates to an overclock of about 231 MHz FSB, which is not too bad from two 1GB DDR-2 DIMMs. Up next, let's see how 2GB of installed DDR-2 affects the benchmarks, especially those of Battlefield 2!
Here are the test system specs we'll be working with.

pcstats test system specs:
processor:

intel pentium d 840

clock speed:

16 x 200 mhz = 3.2 ghz
16 x 239 mhz = 3.82 ghz

motherboards:

dfi lanparty nf4 sli-dr (nf4-sli)

videocard:

msi nx7800gtx-v2d256e

memory:

2x 512mb crucial ballistix pc2-4200
2x 512mb mushkin pc2-4200
2x 512mb corsair twin2x1024-8000ul
2x 1024mb corsair twin2x2048-6400 pro

hard drive:
74gb western digital raptor
cdrom:
gigabyte go-w0808a dvd burner
powersupply:
pc power & cooling turbocool 510 sli
heatsink:
athlon64 4000+ reference heatsink
software setup

windowsxp
forceware nf4 6.53
forceware 77.77

benchmarks

business winstone 2004
sisoft sandra 2005
pcmark04
pcmark05
3dmark05
ut2003
ut2004
doom 3
battlefield 2