One of the major benefits of using the FAT file system for flash memory devices is that it makes them compatible with many of the data recovery programs designed to retrieve accidentally deleted files from computer hard disks. Almost all of these programs support FAT 32 and 16 since FAT 32 is still accepted as a standard for formatting Windows partitions.
If you've accidentally deleted an important file from your flash memory device, fear not. The best place to turn is the same utility we recommend for hard disk undeletion tasks; REST2514. This simple utility can easily search for and retrieve recently deleted files from any FAT formatted device.
Using REST to recover deleted files from flash memory devices
For a really simple and effective way to recover deleted files, it doesn't get much better than Restoration. This incredibly simple tool will search any NTFS or FAT32 drive and recover a list of deleted files that can be restored. Let's look at how to use it:
Start Restoration.

Choose the drive you wish to scan in the 'drives' drop down box, and click 'search by deleted files.'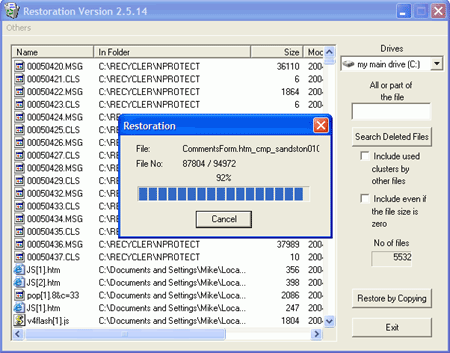 A list of deleted files is created. To restore one or more files, highlight them and click 'restore by copying' then choose a target directory. Note that the file name you are looking for may have its first letter overwritten by a '$' symbol, as this is the symbol appended to a file by the operating system when it is deleted.
Also note that unlike PC inspector, restore does not sort the deleted files by folder, it simply dumps them all into a single list, which can make it harder to find what you are looking for.
If the file you want is not in the list, try searching again with the 'include used clusters by other files' option checked. This will include files which have been partially overwritten in the list. Note that this may well mean that your file will be corrupted or unreadable.