Depending on the type of data you wish to recover, you may want to go to the 'file opt' menu before continuing. PhotoREC searches for many file formats by default, but BMP, MP3, EXE and TXT files are not among them. If you wish to recover these types of files, open the menu and scroll down to each entry, hitting the space bar to enable them.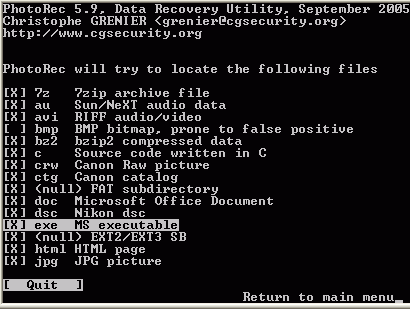 Now it's time to choose a drive and start the recovery process. Return to the main menu and choose your flash media device from the drives listed. Highlight the 'search' option on the menu below and press ENTER.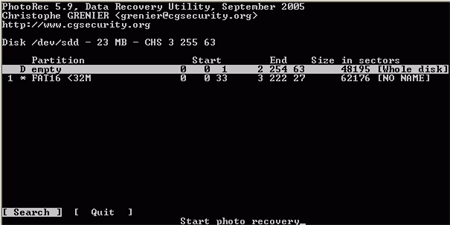 Now choose the first partition listed (the one labeled 'whole disk') and hit enter again to search it for lost files. The program will begin to look through the data present on the drive for signatures that indicate the presence of certain file types. All files matching the types the program is searching for will be copied into a subdirectory created in whatever directory you placed the PhotoREC executable file. This subdirectory is titled 'recup_dir.1'. Each time you start a new recovery operation, the program creates a new subdirectory called 'recup_dir.#' with the number increased by one.

Once the recovery operation has finished, navigate to the 'recup_dir.#' subdirectory in Explorer and examine any recovered files. PhotoREC will list them simply as 'F1, F2, F3' etc., but the file types are clearly visible. Double click to open each file, then rename and move any ones that you want to keep.