AMD's Socket 754 platform is experiencing a bit of a revival right now. Motherboards based on this socket have been introduced which are PCI Express compatible, and now we have SLI options to choose from as well. It's nice to see the life of AMD's Socket 754 processor extended. With Sempron sales doing well, including more features without drastically increasing prices might help convince potential Intel Celeron buyers to go AMD.
If you were one of the early adopters of an AMD Athlon64 processor in the Socket 754 formfactor, congratulations! The bevy of new Socket 754 motherboards being released will extend the investment you made in that processor all those months ago. Upgrades after all can be done in smaller steps, and perhaps tie you over until Socket M2 is released in Q1'06.
At the moment only a few manufacturers have released Socket 754 nForce4 SLI motherboards, notably Albatron and Epox. Since both manufacturers are smaller, it makes us wonder if this has slipped below nVIDIA's radar. Officially the nForce4 SLI is supposed to only be a Socket 939 platform (dual channel DDR and all that), and this could explain why none of the Tier one motherboard manufacturers have released similar products.
With an nForce4 SLI chipset hidden below that golden heatsink, the Epox 8NPA SLI supports all Socket 754 Athlon64 or Sempron processors on the market. The green motherboard only comes equipped with two DIMM slots and supports a maximum of 2GB of PC3200 DDR memory. Other onboard goodies, some new to Socket 754 are nVIDIA's Serial ATA II RAID controller, Gigabit LAN, and 5.1 channel audio. My personal favorite is the Port 80 diagnostics card.

Epox 8NPA SLI Motherboard



Includes:

User's Manual, Quick Installation Guide, Driver CD, Ultra/133 IDE Cable, Floppy Cable, Two Serial ATA Cables, Two Molex to Serial ATA Power Cables, SLI Bridge Connector, I/O Shield, USB Bracket
Expansion possibilities are numerous with the boards two legacy 32 bit PCI slots, two PCI Express x1 slots for high bandwidth devices, and two physical PCI Express x16 slots (the second slot acts as a PCI Express x1 slot in normal mode) for dual videocard goodness!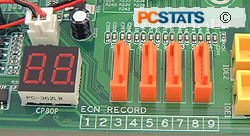 Epox have certainly built a lean green motherboard here.
At 30.5 x 22.5cm in size, the Epox 8NPA SLI motherboard is refreshingly slim for a current ATX board; it installs with seven screw points. The overall layout of the 8NPA SLI motherboard is user friendly, although the floppy drive connector could have been placed closer to the DDR slots for the sake of accessibility in full tower cases.
Epox did an excellent job with the user's manual and quick installation guide that accompany the 8NPA SLI motherboard. Both instruction guides are detailed and clearly outline what novice users need to know. The PCB itself is also labeled appropriately. It would have been nice if the front panel I/O header used the newer colour-coordinated header pin style.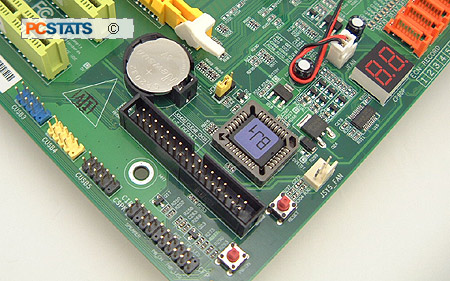 The Epox 8NPA SLI is built for the needs of an entry level / mainstream market, but Epox has also included a couple of goodies for the tweaker at heart. At the top of that list would have to be the surface mounted power and reset buttons.
It can be a good idea to build up a new system completely before installing it into the chassis, and these little buttons can make troubleshooting during that process all the less time consuming - no one likes to short out jumper pins with a paper clip.
If Epox can implement switchless SLI on its 8NPA SLI motherboard, there really is no excuse for any more of those SLI switch cards. In the past, the price of implementing switchless SLI was the main argument against it, but that's no really valid anymore considering this motherboard retails for a very agreeable $123 CDN ($105 US). The capacitors found on the Epox 8NPA SLI are all Rubycon. that Japanese company is supposed to maintain one of the better electrolytic capacitor brands.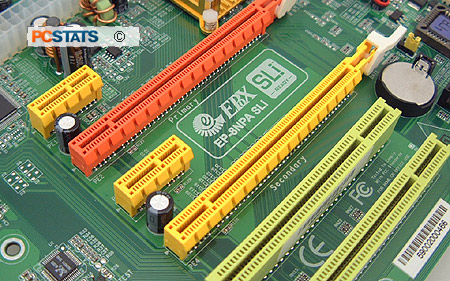 Ooo, switchless SLI
Epox bring a lot of memory timing adjustments to users' fingertips, find out which ones make the biggest difference a little later in the review as we touch on that, and look at the value of the Port 80 card and some of its diagnostic codes.