It's possible to install two versions of Windows on the same partition by using different base directory names (C:\Windows64 instead of C:\windows for example). This approach has several disadvantages though, the largest of which being that it becomes almost impossible to cleanly remove either operating system should you desire to later. A second major problem is that both operating systems will want to use the 'program files' folder (Windows XP x64 Edition actually creates two program files folders for 64 and 32-bit programs respectively), so you may run into conflicts when you try to install identical programs on each OS. In the PCSTATS labs, we found we could successfully install both operating systems onto a single partition, but Windows XP 32-bit ceased to boot shortly afterwards. Try at your own risk.
The best approach is to have a free partition, either on a separate physical disk or on the same disk as your current operating system drive. If you do not have more than one partition currently, use a program such as partition magic to split free space on your existing partition into a new one, or buy a new hard drive.
To examine your current partition situation, right click on 'my computer' and select 'manage', then choose 'storage\disk management.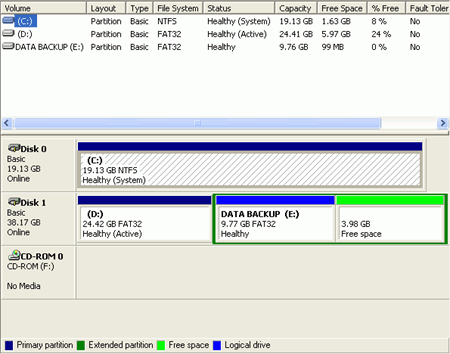 This window lists your current partitions and their sizes. Your current operating system partition (the partition on which Windows is installed) will be indicated with '(system)' next to its status in the upper pane.
If you have more than one partition listed here, check the size of the second partition. If it's over 3GB, it will suffice for installing Windows XP x64 Edition. Check the contents of the partition by right clicking it and selecting 'open' or 'explore'.
Ideally, you should delete the entire contents of this partition to make room for Windows XP x64 Edition, but if you do not wish to, it's possible to install the OS anyway's as long as you have at least 2GB of space free.
If you do wish to keep the existing data on your secondary partition while installing Windows XP x64 Edition, be sure to back up your essential data anyway's, and remember that if you do decide to remove the 64-bit OS later, don't format the partition!
Whichever way you are going to install XP x64, copy or backup your data first.
If you do not have multiple partitions, or if your partitions are not large enough, you either need to split your main partition or install a new hard disk. If you want to split your main partition, separating some of its unused space into a new partition, you can use a program like partition magic or the freeware Ranish Partition manager to accomplish this. Be sure to backup all essential data first!
The easiest way to add new free partitions is to buy and install a new hard disk. The extra space always comes in handy, and adding a new drive is very easy with modern hardware and operating systems. If you need help installing your new hard disk, see our guide on the subject here. Once you have a free partition or a new drive installed, its time to install Windows XP x64 Edition...