Removing one of the operating systems comprising your dual-boot installation is actually fairly easy, provided you remember one essential fact: The files that XP uses to determine how many operating systems are present and where they are located exist on the first partition of the first drive (usually C:\, so formatting C:\ will wipe them out and mess up all Windows installations. Note, the following instructions are only valid for Windows XP or 2000.
Make sure you backup all essential data from the partition containing the operating system you want to remove before you proceed further with this section.
If you want to remove your Windows XP x64 Edition installation (for the sake of this article we'll say it's located on your d: drive), the first thing you should do is load up your 32-bit Windows XP version.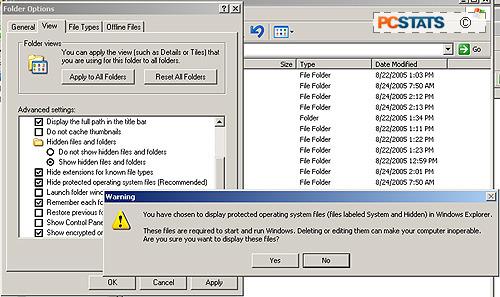 Open up your C:\ drive in an explorer window, and in the menu above, go to 'tools\folder options'. Choose the 'view' tab and ensure that the 'show hidden files and folders' option is enabled and the 'hide protected operating system files' option is disabled. Hit 'ok'.
In your C:\ drive, locate the 'boot' file and open it with notepad. It should resemble the following:
[boot loader]
timeout=30
default=multi(0)disk(0)rdisk(0)partition(2)\WINDOWS
[operating systems]
multi(0)disk(0)rdisk(0)partition(1)\WINDOWS="Microsoft Windows XP Professional" /fastdetect
multi(0)disk(0)rdisk(0)partition(2)\Windows="Microsoft Windows x64 " /fastdetect

Make sure that the 'word wrap' option is unchecked by going to the 'format' menu heading.
As we mentioned above, the BOOT.INI file is used by Windows to determine which versions of the operating system are present on your computer and where on its drives they can be found. By editing this file, you can remove all references to XP x64, making it safe to format the operating system's partition for reuse.