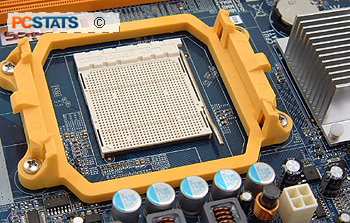 AMD's decision many moons ago to integrate the memory controller into the processor architecture was an excellent move. With the swing to socket AM2 a DDR-2 memory, that decision is certainly paying dividends now...
A certain level of performance is been maintained from Athlon64 systems, and differentiates motherboards by feature-sets only really. It also makes things easier on the chipset and motherboard manufacturers as moving to a new platform does not require a lot of re-tooling.
Originally introduced as a Socket 939 chipset, the nVidia GeForce 6100 chipset fully supports the Socket AM2 platform as well. In fact as the benchmarks have indicated, the GeForce 6100 provide similar performance at a fraction of the price of nForce 590 SLi motherboards. Of course the GeForce 6100 doesn't have as many features.. and the nForce 500 series does have many cool ones, but the price will definitely make it attractive for users looking for a solid workstation PC.
If you're looking for a low cost motherboard for workstation or entertainment purposes, the Biostar TForce 6100 AM2 is an excellent choice. The microATX footprint means the system can be small and placed in an inconspicuous place, freeing up room for other devices.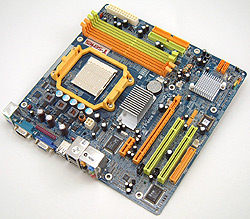 The BIostar TForce 6100 AM2 motherboard shows the world that Socket AM2 is not just the realm of high end systems, it can be used in all types of situations as well. Perhaps that is something we could all do well to remember, as it seems with each new processor generation the focus is always on high end applications.
The Biostar TForce 6100 AM2 stacks up pretty well against the competition, though the GeForce 6100 is weak for modern games; nothing the PCI Express x16 slot can't help address. With a GeForce 7800GTX installed, the Biostar TForce 6100 AM2 was just as fast in the 3D applications as the Asus M2N32-SLI Deluxe and Foxconn C51XEM2AA!
The retail price of the Biostar TForce 6100 AM2 is not clear at the moment but since it's based on the GeForce 6100, it should retail for less than $100 USD. Considering this chipsets' proven capabilities, this gives you a great deal of options (network, integrated videocard, SATA, USB, audio, etc.) to mull over. If you're in the market for a socket AM2 AMD processor-based computer, the Biostar TForce 6100 AM2 is a nice option worth considering.
Find out about this and many other reviews by joining the Weekly PCstats.com Newsletter today! Catch all of PCSTATS latest reviews right here.
Related Articles
Here are a few other articles that you might enjoy as well...
- Foxconn 975X7AA-8EKRS2H Intel 975X Motherboard Review
- Gigabyte GA-8N-SLI Quad Royal Motherboard Review
- ASRock 939SLI32-eSATA2 ULi M1695 Motherboard Review
- ECS KA1-MVP Extreme Xpress 1600 Motherboard Review
- MSI K8N Diamond Plus nForce4 SLI x16 Motherboard Review