At the moment the Socket AM2 AMD Athlon64 processor is the hottest thing in the computer industry, and you can bet manufacturers are scrambling to get their AM2 solutions into the marketplace. Seeing as the major changes were made to memory controller of the Athlon64, you might not realize that there really is no need for an entirely new chipset for AM2 motherboards. Thus far only nVIDIA has released a new family of chipsets for AM2 processors - the nForce 500 series. Remaining AM2 motherboards are largely being built with the same chipsets that socket 939 Athlon 64 processors utilized so well.
nVIDIA's GeForce motherboard chipsets - you know the ones that bring integrated video into the fold - have been a huge hit. The nVidia Geforce 6100 packs in the same type of computing power as the nForce4 series, it also boasts the best integrated video solution on the market. In fact, nVIDIA's integrated GeForce 6100 is on par in both 3D abilities and feature sets as other stand alone entry level videocards. To anyone on a tight budget looking to get the most from their computer, this kind of product offers a tone of value.
With this in mind, we've got one of the very first socket AM2, nVidia GeForce 6100-based motherboards on the market hitting the review bench today. The Biostar TForce 6100 AM2 motherboard packs quite a lot into a microATX platform; top of the line integrated graphics, PCI Express, networking, SATA and IDE hard drive support, and integrated sound card. The Biostar TForce 6100 AM2 should be a good little workstation motherboard, perfect for one of the new Socket AM2 Sempron 3600+ or Athlon64 3800+ processors.
The spec sheet for the Biostar TForce 6100 AM2 reads like a check list of things you'll actually need in a computer; Gigabit network card, 7.1 channel audio, Geforce 6 series graphics, two Serial ATA II (3.0Gbps) channels and two IDE channels (thanks to the nForce 410 Southbridge). If you find the integrated GeForce 6100 videocard is too weak, there is a PCI Express x16 expansion slot for stand alone videocards. The four DDR-2 DIMM slots can accommodate up to 4GB of DDR-2 400/533/667/800 memory, and of course the motherboard supports Socket AM2 Athlon64 X2/FX and Sempron processors.

Biostar TForce 6100 AM2 Motherboard



Includes:

User's Manual, Driver CD, Ultra/133 IDE Cable, Serial ATA Cable, Molex to Serial ATA Power Cable, Floppy Cable, I/O Shield, Foam Pouch
After playing with large full size ATX motherboards, the Biostar TForce 6100 AM2 is refreshingly small and easy to fit into compact desktop cases. The colourful TForce 6100 AM2 motherboard slots and sockets will brighten up the inside any case, no matter how cramped. The GeForce 6100 Northbridge and nForce 410 Southbridge do not generate that much heat, so keeping the motherboard cool should no be of no big concern - plus the passive heatsinks are 100% silent.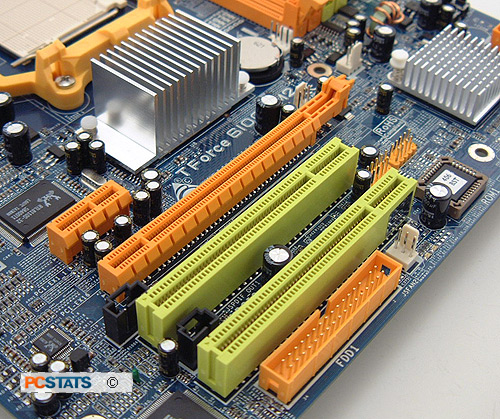 MicroATX Socket 939 and Socket AM2 motherboards look very much alike so if you're in the market for a small motherboard make sure you look closely at the specifications. God knows how helpful sales staff can be, and as both Athlon64 varieties have similar names you want to make sure you get what you expect.

The Biostar TForce 6100 AM2 is one of the new generation motherboards that requires a native 24-pin ATX 2.0 power supply. If you're contemplating upgrading to Socket AM2, it's a good idea that the power supply you're using is up to snuff. The Seasonic S12 600W power supply is a good place to start looking if you're unsure of what to aim towards. Inadequate power supplies can lead to all sorts of problems, and are the leading cause of computer related failures .

The quality of the Biostar TForce 6100 AM2 manual is very good. It explains how to setup and install the motherboard in plain English, and even tackles harder topics like RAID and setting up the BIOS. Traditionally most motherboard manufacturers simply put pictures of the BIOS with little to no explanation on what the various settings do. The extra information is certainly appreciated.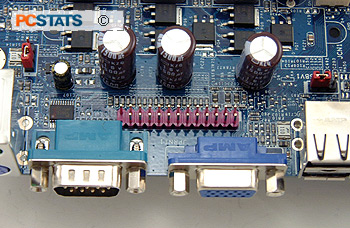 For the most part the layout of devices on the Biostar TForce 6100 AM2 motherboard is logical; there are some tight squeezes with a couple of the internal audio and USB headers, but other than that we don't have any major complaints.
I like how Biostar place the PCI Express x1 slot above the PCI Express x16 slot... It makes it easier to equip the system with a dual slot videocard and still have access to a high bandwidth expansion slot if needed too.
Oh, you should also notice that the parallel printer jack is not included at the rear IO panel. There is a header for a parallel printer bracket if you need one, but you'll have to source out the bracket first as one is not included with the motherboard.
Considering the rarity of Parallel devices these days it's not such a surprising omission. There are four USB jacks at the back of the board, although no brackets are bundled in to take advantage of the two internal USB headers. That's a shame, but finding an extra one or two at your local computer store isn't too costly. Let's take a close look at the highlights of the Biostar TForce 6100 AM2 motherboard next...