The Mushkin Enhanced XP-650 supports over voltage, over current and short circuit protection in order to protect you and your system from damage. The XP-650 can safely operate in temperatures between 0-50 degrees Celsius with a relative humidity between 20-80%.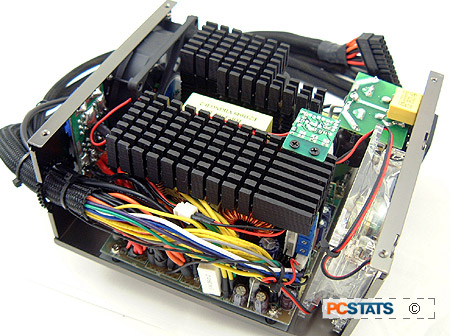 Removing the top cover of the power supply exposes the innards of the Mushkin Enhanced XP-650, please keep in mind though by doing so voids all warranties. The 10 Amp fuse is removable and can be replaced if necessary, although getting to it will require you to remove the rear exhaust fan as well.
According to Mushkin, under light loads, the fans will spin at between 490-550 RPM while generating 22-24dBA of noise (up to 60% load). Higher loads tend to bring with them more heat generation, and fan speed will jump to 1590-1830RPM with noise hovering between 27-30dBA in these situations. Should the fans in the Mushkin Enhanced XP-650 die a few years down the road, both are replaceable although you'll have to find two pin fans for that.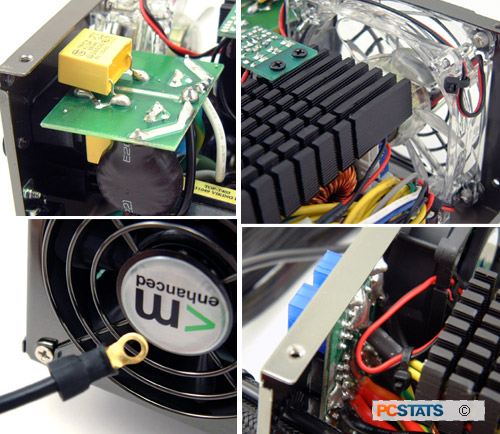 Mushkin provides a 3 year warranty with its power supply, which is pretty standard but not as long as other some other models. Hopefully Mushkin will increase its power supply warranty to match its rivals as a long warranty gives consumers peace of mind.

Inside the Mushkin Enhanced XP-650 power supply are four potentiometers which allow adjustments to the power supply voltage. To access the internal pots however, you will have to void your warranty, but that shouldn't be much of an issue for enthusiasts.
Now let's test this 650W power supply!