Mushkin is memory, so why the heck has a company long known for its enthusiast friendly RAM branched out into foreign territory? It's the first question that popped into our heads when the shiny grey metallic Mushkin Enhanced XP-650 powersupply arrived in the PCSTATS labs. The 650W powersupply is the first ever for Mushkin, and it boasts twin thermally responsive fans, a modular cable system, and more SATA power connectors than we've seen on any recent unit. In typical Mushkin fashion, the company has assembled a box that offers some pretty nice power across each of the rails, looks swanky, and thankfully seems to have avoided the whole cheap and flashy trend by a mile. Yet... why power supplies, and why now? Computer RAM is also known as volatile memory, because data persists only as long as power is supplied. Ironically enough, the volatile memory industry is pretty volatile in and of itself, with DRAM prices fluctuating daily like the price of gold. Bearing in mind that 2006 is set to be a transition year where demand shifts from DDR to DDR-2, and given the moderate demand for DDR-2 RAM right now, Mushkin has jumped into power supplies as a way of mitigating instability in the memory market. Corsair have done much the same with its watercooling systems, Crucial with its videocards, OCZ with.... well just about everything including other than memory.
So what makes a good power supply? It must have a sufficiently high output wattage to handle top of the line components, but more importantly is how that power is split up between the various voltage rails. Low end manufacturers pump up the overall wattage value by inflating the amount of power that can be delivered on the +3.3V and +5V rails; and this is useless for enthusiasts since all the high powered devices draw power off the +12V rail these days.
Looking at the Mushkin power supply I see four pretty hefty +12V rails which will have no problems feeding even the most demanding dual core, mutli-videocard system - each has 20A headroom. Nice. Everything else about a power supply is considered secondary, but things like LED fans, modular design and easy to use cables do well improve the whole package.
On paper the Mushkin Enhanced XP-650 power supply looks to be an excellent model, but as with everything in life never judge a product based on how it looks. PCSTATS has seen enough computer devices that promise the world, only to go up in smoke when the going gets tough. The XP-650 power supply has a peak power rating of 650W, adheres to the ATX 2.0 standard and is multi-videocard ready. The Mushkin XP-650 comes with a retail price tag of $240 CDN ($219 USD, £116GBP), about what we would expect for an enthusiast class power supply. Sadly, it's not an A-PFC power supply, but by the sounds of it Mushkin are readying a model for the European markets which will be - North American energy conservation standards really need to get with the times.

Mushkin XP-650 Power Supply

Includes:

User's Manual, Power Cord, Velcro Ties, Zip Ties, Screws, Modular Cables
The first thing you're eye will be drawn to on the Mushkin XP-650 is its metallic glossy grey finish. The surface looks very cool, and picks up fingerprints like iron filings to a magnet. At 175 x 150 x 85mm in size, the Mushkin XP-650 is slightly longer than the average power supply, but not by too much - most high end power supplies are physically larger these days.
The Mushkin XP-650 power supply is ATX 2.0 compatible which means it natively supports a 24-pin main ATX power connector. If you're using an older motherboard with a 20-pin power supply connector, the four additional pins are detachable. The XP-650 supports both four and eight pin ATX12V connectors, and the power supply can also be used with EPS12V motherboards.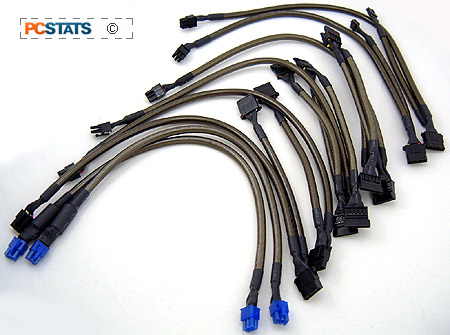 According to the power supply ratings data, the +3.3V line can deliver a maximum of 24 Amps while the +5V rail can output 30 Amps. The Mushkin XP-650 has four +12V rails, all of which can output 20 Amps apiece! Maximum output on the +3.3V and +5V lines is 170W, while the +12V line can deliver a maximum of 528W in total. Peak output of the XP-650 is... 650W. Mushkin lists all these values right on the unit, and also includes what the various coloured wires stand for on the power supply label.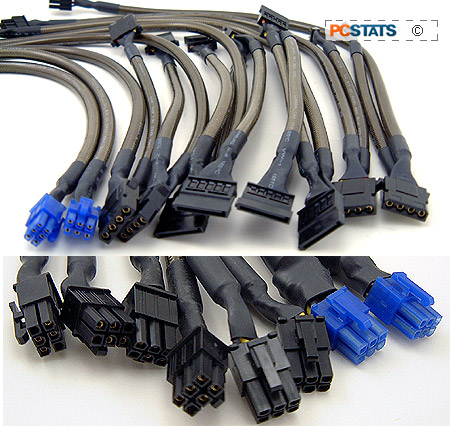 The Mushkin Enhanced XP-650 does not support Active PFC so it's important to make sure you check the input voltage switch is set properly before you plug in the power cord. Efficiency of the XP-650 is rated at 70-73% according to Mushkin data, and there is a 10 Amp slow blow fuse on the inside (which is replaceable). Mushkin equip the XP-650 with two 80mm temperature controlled fans (the rear exhaust fan shines green thanks to four LEDs) which help keep things cool. We'll be taking a closer peek at the inside in just a moment, but first let's examine the modular cable system.