Testing Mushkin's First Power Supply
The price of energy is increasing world wide, and any reduction in the amount of power a computer draws is welcome in our books. Power supplies which employ power factor correction (PFC, or A-PFC) help ensure efficient conversion of AC to DC, and reduce the amount of energy wasted as heat. The following power tests were all conducted with an Extech Model 380803 Power Analyzer located between the mains 120AC supply and the power supply. Power jitter is measured with a Mastech MS8230B Multimeter at the device power connectors .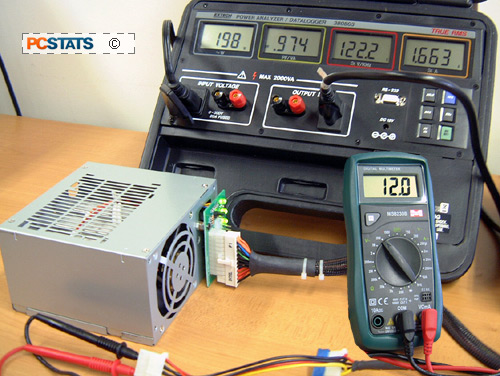 Here is a picture of the test set up for the Mushkin Enhanced XP-650 650W power supply.

Power Jitter Observations - Motherboard
Voltage jitter is read by accessing the power options displayed in the motherboard BIOS, with the system obviously in an unloaded state. *All voltages were read from the BIOS of an ECS RS480-M motherboard.
| Listed Voltages | Lower Voltage | Upper Voltage | Jitter |
| --- | --- | --- | --- |
| +3.3V | 3.27V | 3.35V | 0.08V |
| +5.0V | 4.97V | 4.99V | 0.02V |
| +12V | 11.7V | 11.8V | 0.01V |
| -12V | -11.99V | -12.00V | 0.01V |
| -5.0V | -4.99V | -4.99V | 0.00V |
| +5.0Vsb | 5.0V | 5.0V | 0.00V |
The 12V rail readings in the BIOS are a bit on the low side, it's nothing out of the ordinary however a bit lower than we expected. Luckily there are internal pots to adjust the voltages, too bad you'll have to void your warranty to do so.
Power Jitter Observations - Multi-meter
Voltage jitter was read by a Mastech MS8230B Multimeter with the system in an unloaded state. During testing the power supply is was still connected to a full computer and voltage values.
| Listed Voltages | Lower Voltage | Upper Voltage | Jitter |
| --- | --- | --- | --- |
| +3.3V | 3.33V | 3.4V | 0.07V |
| +5.0V | 5.0V | 5.0V | 0.00V |
| +12V | 11.9V | 12.0V | 0.01V |
It's interesting to see here that the digital multimeter is reporting much better values. The 12V rail is hovering at around 12V which is great to see. Next, load tests with the Seasonic PSU tester and then our final conclusions on this unit.
When looking at the Seasonic Power Supply test results we see two values, wattage and volt-amps. Since it might not be clear what they measure, here's a brief overview.
The volt-amp (VA) value is how much real power is being consumed by the power supply being tested to provide the wattage (W) value. The higher the VA value is, the more electricity is being used by the power supply. Because no electrical device is 100% efficient, there will always be some loss when converting AC to DC. The closer the volt-amps and wattage figures are to each other, the more efficient a power supply is. This is called the Power Factor: wattage / volt-amps = PF.
Since we're testing with a 120W dummy load, the load on the power supply (wattage) should be as close to this figure as possible. Anything above this load in apparent power describes the overhead and wasted energy (given off as heat) for the particular power supply being tested. For the unloaded tests, the wattage and volt-amp figures should be as close as possible to one another. The lower the figures are, the less power is being wasted.
Measurements were taken with the Extech 380803 Power Analyzer.
Seasonic Power Load Tests

Power Supply
Wattage
Test Type
Loaded
Unloaded
Seasonic SuperTornado
400 W
(A-PFC)
Active Power
177 W
6 W
Apparent Power
182 VA
7 VA
Vantec iON2
350 W
Active Power
192 W
10 W
Apparent Power
277 VA
21 VA
Antec TruePower 330
330 W
Active Power
195 W
22 W
Apparent Power
289 VA
38 VA
Ultra X-Connect Green UV 500W
500 W
Active Power
193W
22 W
Apparent Power
307 VA
40 VA
AOpen Silent Power AO400-12AHN
400 W
Active Power
179W
9 W
Apparent Power
275 VA
18 VA
Seasonic S12-430
430 W
(A-PFC)
Active Power
179W
6W
Apparent Power
180VA
9VA
PC Power and Cooling Turbo-Cool 510 Express/SLI

510 W
(A-PFC)

Active Power

200 W

29 W
Apparent Power
202 VA
32 VA
HEC Ace Power 580UB

580 W

Active Power

183 W

12 W
Apparent Power
272 VA
26 VA
HEC Win 550UB
550 W
Active Power
184W
10W
Apparent Power
263VA
22VA
Akasa PowerPlus AK-P550FF
550 W
(A-PFC)
Active Power
194W
38W
Apparent Power
197VA
40VA
AOpen Prima Power AO700-12ALN
700 W
(A-PFC)
Active Power
172W
3W
Apparent Power
181VA
9VA
PC Power & Cooling Turbo-Cool 1KW
1000 W
(A-PFC)
Active Power
205W
25W
Apparent Power
207VA
32VA
Seasonic S12 600
600 W
(A-PFC)
Active Power
164W
7W
Apparent Power
173VA
9VA
Mushkin Enhanced XP-650
650 W
Active Power
192W
22W
Apparent Power
279VA
43VA
When it comes to power efficiency, the Mushkin Enhanced XP-650 sits in the middle of the pack. It's not the most efficient power supply we've tested but then again it's not the worst either. The applied load is 120W, so keep that in mind when looking at the above values and comparing against the other power supplies.