Mushkin is a name many are familiar with when it comes to memory products, and this marks the first entry for the company into alternative product categories. For its first power supply, the Mushkin Enhanced XP-650 is a pretty decent unit.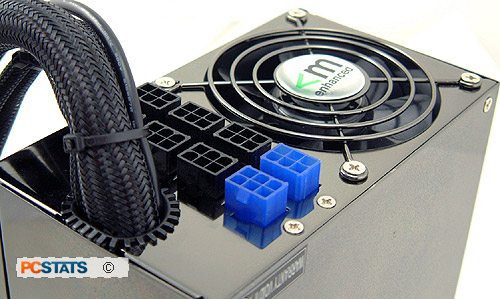 Mushkin does a lot of things right with its XP-650 power supply, and most importantly it puts power where it's needed most - the 12V line. High end PC systems often contain a lot of peripherals, with the Mushkin Enhanced XP-650 you get a ton of device power connectors; eight Serial ATA power connectors, six molex, two PCI Express 6 pin power connectors and a floppy.
During testing the two 80 mm temperature controlled fans spun slowly thus did not create a lot of noise. The various power supply cables were well organized and thanks to the power supply's modular design and Velcro cables, keeping the system cables clean organized is easy.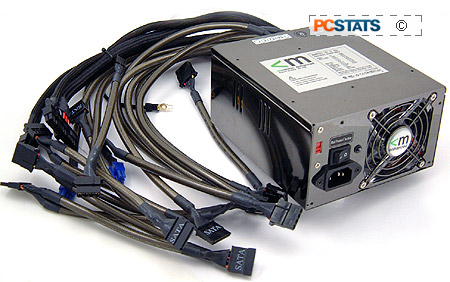 We're slightly disappointed that the Mushkin XP-650 does not contain Active PFC circuitry, but in speaking with the company it seems this choice was made to keep the unit as affordable as possible.
The Mushkin Enhanced XP-650's performance is good and the power consumption readings put it near the middle of the pack. It's fairly efficient for a non-PFC power supply, and does not waste much energy as heat. It is not as power efficient as others we've tested, like Seasonic S12-600 for instance.
With a retail price of $240CDN ($219USD, £116GBP), the Mushkin Enhanced XP-650 is a bit on the expensive side but not that much above what other comparable units go for. If you need something solid and dependable, the Mushkin Enhanced XP-650 and its modular cable system is a pretty good bet.
Find out about this and many other reviews by joining the Weekly PCstats.com Newsletter today! Catch all of PCSTATS latest reviews right here.
Related Articles
Here are a few other articles that you might enjoy as well...
- PC Power & Cooling Turbo-Cool 1KW Power Supply Review
- Seasonic S12 600W Power Supply Review
- Powerware 5125 1000VA UPS Review
- PC Power & Cooling Turbo-Cool 510 Express/SLI Power Supply Review
- AOpen Prima Power AO700-12ALN 700W Power Supply Review
- Akasa PowerPlus AK-P550FF 550 Watt Power Supply Review
- HEC WinPower Win 550UB PSU Review
- HEC Ace 580UB 580 Watt Power Supply Review
- Seasonic S12-430 430 Watt Power Supply Review