Even though the nVidia GeForce 6150 chipset was relatively late to the market, it quickly became a fan favorite for DIY'ers and enthusiasts wanting to build low cost AMD Sempron/Athlon64 systems (both socket 939, and in our case socket AM2). There is little doubt that the GeForce 6150 is aimed at the entry level market, however nVIDIA did not totally strip down the chipset like its competitors. The GeForce 6150 is very feature rich, and perhaps more importantly the performance of the chipset is excellent.
Considering how well designed the GeForce 6150 chipset is, it's not surprising that manufacturers decided to port it over to the Socket AM2 platform. The Albatron KM51PV-AM2 motherboard is a prime example of what can be achieved.
Albatron integrates everything you need from a workstation motherboard and that includes a Gigabit network card, 5.1 channel audio controller and of course the onboard GeForce 6150 videocard which supports DVI and analog style monitor cables. What makes the Albatron KM51PV-AM2 unique is its DVI video output, that means this motherboard will work just fine with digital LCDs and potentially HDMI too. ;-)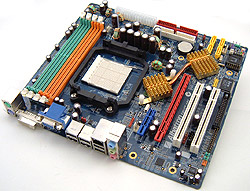 Despite all the integrated goodies, the Albatron KM51PV-AM2 is pretty expandable for its small size. The PCI Express x1 and two 32 bit PCI slots offer you a lot of flexibility while the PCI Express x16 slot allows you to install a high performance videocard if so desired. As the benchmarks indicated, the Albatron KM51PV-AM2 is no slouch in terms of 3D performance with a good videocard either. For office applications and content creation type software that exists in a 2D world, the onboard Geforce 6150 graphics are more than capable to the task.
The Albatron KM51PV-AM2 is able to keep up with motherboards like the MSI K9N SLI Platinum and Foxconn C51XEM2AA in the office based tests easily, even though those boards are in totally different classes. Memory bandwidth seemed to be a bit on the low side in SiSoft Sandra figures, but Super Pi and PCMark05 illustrated that the KM51PV-AM2 is extremely quick. Where the Albatron KM51PV-AM2 really impressed us was in the 3D tests - with a stand along Geforce 7800GTX videocard of course. After installing a high performance PCI Express x16 videocard into the PCI Express x16 slot, it was almost as if we unlocked the Albatron KM51PV-AM2's true potential! With a GeForce 7800GTX, the KM51PV-AM2 fought for top spot in virtually all gaming benchmarks! We have to admit, we were not expecting a mainstream (or what some would call value-oriented) motherboard to place so well against the likes of the Asus M2N32SLI-DLX and Foxconn C51XEM2AA motherboards in gamies like FarCry and Doom 3! Both of those platforms are based on nVidia's flagship nForce 590 SLI chipset too...
The Albatron KM51PV-AM2 microATX motherboard has not quite reached the retail markets yet so we're not sure of its price but whatever it is, it'll be a steal. Motherboards built with the nVidia GeForce 6150 tend to go for less than $100 CDN, and we'd expect the socket AM2 Albatron KM51PV-AM2 motherboard to be in that kind of range as well.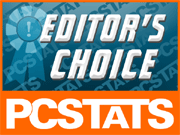 Find out about this and many other reviews by joining the Weekly PCstats.com Newsletter today! Catch all of PCSTATS latest reviews right here.
Related Articles
Here are a few other articles that you might enjoy as well...
- MSI K9N SLI Platinum nForce 570 SLI Motherboard Review
- ECS RS480-M Crossfire Xpress 200 K8 Motherboard Review
- ASRock 775XFire-eSATA2/A/ASR i945PL Motherboard Review
- Epox 9U1697 GLI ULi M1697 Motherboard Review
- Asus M2N32-SLI Deluxe nForce 590 SLI AM2 Motherboard Review