Overclocking Results:
No one does overclocking better than nVIDIA... and it's not just the companies' top of the line chipsets that overclock well, nVIDIA's mainstream and entry level chipsets also have an excellent reputation for being able to clock high. With that in mind, we definitely had some high expectations for how the Albatron KM51PV-AM2 motherboard would perform.
Before our little overclocking adventure begins, we first need to lower the CPU clock multiplier to 8x, and drop the DDR2 memory speed to DDR2-533 MHz levels. This way, neither components will hold the motherboard back from its best possible clock speed. With these adjustments made overclocking began at 200 MHz, with the speed increased thereafter in 5-7 MHz increments.
The Albatron KM51PV-AM2 handled the overclocking pretty well from the get-go, and the motherboard reached a clock speed of 237 MHz before the chipset voltage needed a little boost to 1.35V. After that adjustment the KM51PV-AM2 flew smoothly all the way to 248 MHz! Stability left the building when we tried any speeds higher than that, as evidenced by BSOD (Blue Screen of Death) while loading WindowsXP and crashing benchmarks.
Considering the intended market for the Albatron KM51PV-AM2, an overclock of 248 MHz is definitely a nice result. In fact, the Albatron GeForce 6150 motherboard already overclocks better than many of its Socket 939 counterparts. Nice.
The Albatron motherboard BIOS:
The BIOS which is installed on the Albatron KM51PV-AM2 motherboard we received for testing will be slightly different from the retail versions.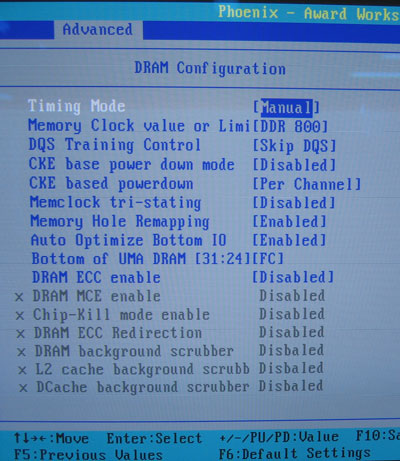 The Albatron KM51PV-AM2 is missing the basic memory timing adjustments like CAS latency, RAS to CAS and Row Precharge. Although we do find a whole lot of unknown tweaks. As mentioned earlier, the KM51PV-AM2 is equipped with a beta BIOS so most of these options are not expected to be available to retail users.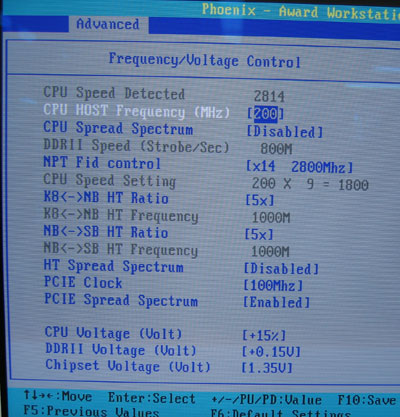 In the Frequency/Voltage Control section, you can adjust the KM51PV-AM2 motherboard frequency from 200-450 MHz in 1 MHz intervals. There are multiplier control adjustments and you can also adjust the HTT Speeds between the CPU/Northbridge and Northbridge/Southbridge. You can add a maximum of 15% more CPU voltage, increase the DDR2 voltage to 1.95V and chipset voltage to 1.35V.
Next, we've got benchmarks a plenty!