Abstract: The KM51PV-AM2 is based on the nVIDIA GeForce 6150 and nForce 430 chipsets, and as such it supports all current socket AM2 AMD Athlon64/FX/X2 and Sempron processors.


90% Rating:

Home > Reviews > Motherboards > Albatron KM51PV-AM2
nVidia Geforce 6150 on AM2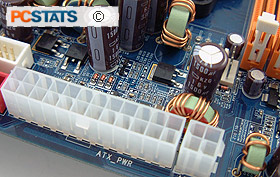 The nVidia GeForce 6150 chipset on the Albatron KM51PV-AM2 motherboard is at its heart a low cost fully integrated solution. The GeForce 6150 GPUs is built on TSMC's 90nm manufacturing process, and is intended to support current Socket 939/AM2 AMD K8 processor generations. The memory support is actually up to the memory controller built onto the AMD K8 processor, but from what we've seen most GeForce 6100-series motherboards have four DDR/DDR2 DIMM slots. Meaning up to 4GB of PC3200 DDR RAM (Socket 939) or 8GB of DDR2 memory (Socket AM2) can be installed.
The GeForce 6150 northbridge communicates with the AMD Athlon64/Sempron processor over a 1000MHz Hypertransport link (16-bits wide upstream/16-bits wide downstream) which can also be adjusted within the BIOS if you so choose to.
Jam Packed with Video centric Capabilities
There are two different versions of the GeForce 6100-series chipset, the Geforce 6150 we're focusing on in this review and the striped down Geforce 6100. The GeForce 6150 supports a slightly better feature set, with extra's like a TV encoder, TMDS/DVI support, a slightly higher graphics core speed (475 MHz as opposed to 425 MHz for the 6100), 18 PCI Express lanes (16 for the videocard, 2 for miscellaneous devices), 1080p/1080i HD playback and higher video scaling. The GeForce 6100 does not support TV encoding or TMDS/DVI output, and only makes allowances for standard definition (4:3) playback.
nVidia Geforce 6150 Chipset Feature Breakdown
nVidia Geforce 6150 and nForce 430
CPU
939 or 940-pin Socket AM2
TV-Encoder
Yes
TMDS/DVI
Yes
Graphics Clock
475MHz
PCI Express
(1) x16, (2) x1
MPEG-2/WMV9 Playback
High Definition 1080p/1080i
Audio
High Definition Audio (Azalia) / AC97
SATA/PATA Drives
4/4
RAID
0,1,0+1,5
Ethernet
10/100/1000
The nVidia GeForce 6150 is not a single chip solution, and so the nforce 430 Southbridge is paired with it on the Albatron KM51PV-AM2 motherboard. The nVidia nForce 430 is Serial ATA II compatible, and it even includes the option of setting up a RAID 0/1/0+1/5 array among the four SATAII ports.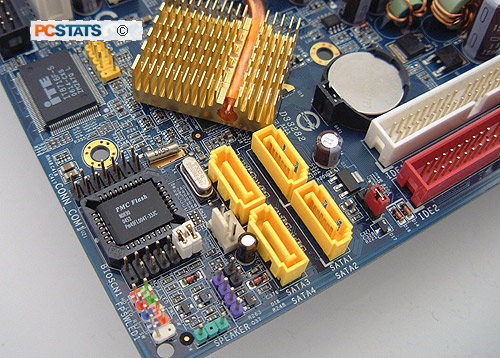 The nForce 430 chipset support four Serial ATA devices as well as four IDE. The NF430 incorporates Gigabit LAN as well as nVIDIA's hardware ActiveArmor Firewall.
Connecting the two chipsets together is a 800 MHz Hypertransport connection which has an 8 bit wide Up/Down data bus.
The nForce 430 chipset is also compatible with Intel's new Azalia 7.1 channel high definition audio codec. The onboard GeForce 6150 videocard supports dual monitors and in the case of the Albatron KM51PV-AM2, both an analog and digital monitor can be connected at the same time. If need be, a digital to analog connector can be used for dual analog outputs. Unfortunately you cannot use the onboard GeForce 6150 in conjunction with a stand alone PCI Express videocard for more desktop real estate.
The Albatron KM51PV-AM2 also supports S-Video output by default, although a header connector must be used. One was not included with the Albatron KM51PV-AM2 review sample we received for evaluation, but this bracket will come with retail motherboards. The S-Video output supports a whole variety of video standards; NTSC-M, NTSC-J, PAL-M, PAL-BDGHI, PAL-N and PAL-NC. This will allow the Albatron KM51PV-AM2 connect to a television and play any standard definition video anywhere in the world.
Considering the Albatron KM51PV-AM2 is based on the GeForce 6150 design, we would have liked to have seen Albatron support component output instead of just S-Video. Without component output support, you won't be able to connect the computer to your high definition television set.