Abstract: The KM51PV-AM2 is based on the nVIDIA GeForce 6150 and nForce 430 chipsets, and as such it supports all current socket AM2 AMD Athlon64/FX/X2 and Sempron processors.


90% Rating:

Home > Reviews > Motherboards > Albatron KM51PV-AM2
KM51PV-AM2 Motherboard Highlights
The Albatron KM51PV-AM2 motherboard has a lot of the features you would expect from an entry level based GeForce 6150 motherboard. Some of the most significant highlights of the KM51PV-AM2 are pictured below.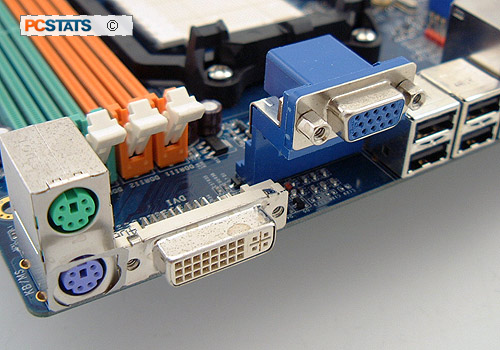 The Albatron KM51PV-AM2 motherboard supports both DVI and analog monitor outputs and these can be used at the same time for multi-display output. If you're using a high end LCD, you do not have to sacrifice quality by using the analog VGA jack. Because the analog output is raised off the PCB, the plastic backing is a little weak so use caution when plugging in analog devices. In case you're wondering, the DVI or analog output does not change gaming or video output performance and CPU usage and benchmarks stay the same no matter which output is chosen.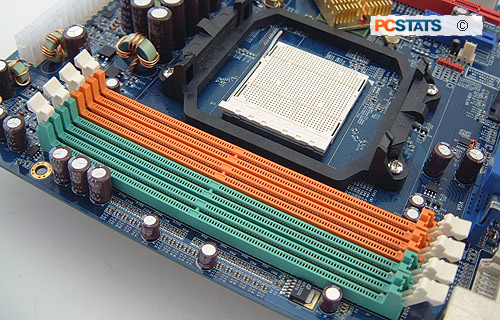 There are four DDR2 memory slots which can accommodate up to 8GB of DDR2-800 memory. Please notice how close the DIMM slots are to the CPU socket, larger heatsinks can potentially interfere with memory modules so bear that in mind when selecting a thermal solution. Albatron colour coordinates the memory channels so you know which ones to fill to enable dual channel memory support.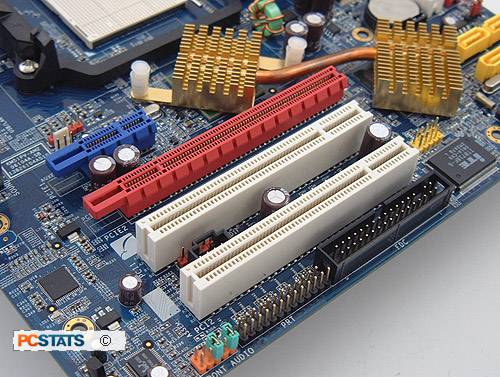 If you find the onboard GeForce 6150 graphics are not powerful enough, you can always install a standalone videocard in the red PCI Express x16 slot. You can further expand the Albatron KM51PV-AM2 through the open PCI Express x1 and two 32 bit PCI slots. The location of the floppy drive connector isn't the best, but in a compact PC case this shouldn't pose much of a problem. The header for a parallel printer connector is located next to the FDD connector.
The nVidia GeForce 6150 Northbridge and nForce 430 Southbridge are cooled passively, and connected by a heatpipe that connects the two together. The low profile passive heatsinks are designed to take advantage of CPU airflow to keep the chipsets cool.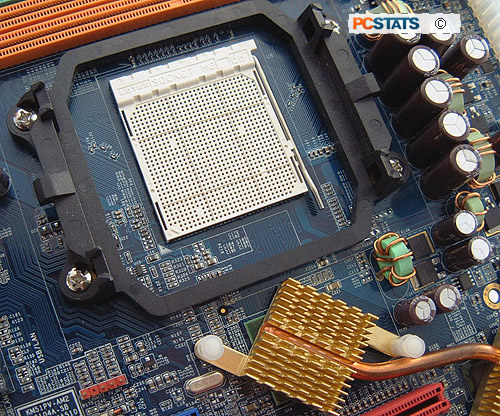 The 940-pin socket AM2 heatsink retention frame is different enough from the socket 939 heatsink frame that only heatsinks which clip onto the center tab remain compatible. Those that screw into the rear PCB support frame of the old two-post series are no longer useable with the four-post style brought into play by socket AM2.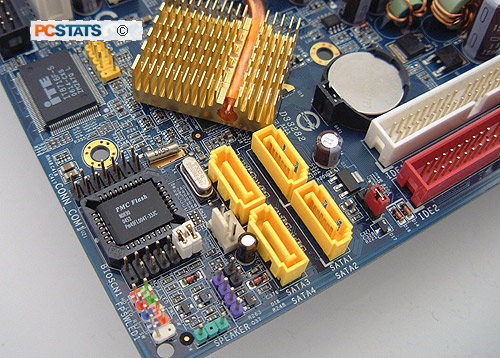 There are four SATAII headers and two IDE channels for storage devices on the Albatron KM51PV-AM2. The front panel I/O connectors are marked with polarity to ensure those pesky LED activity lights are connected the right way, the first time (match the red or white wire to the "+" sign).
Next up, PCSTATS will be investigating the capabilities of nVidia PureVideo and the high definition video strengths of the Geforce 6150 chipset....