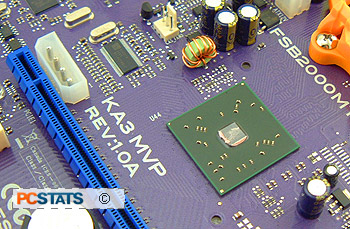 ATi may be late to the game, but the performance of its flagship 'RD580' Crossfire Xpress 3200 chipset when benchmarked with a single videocard is near identical to nVidia's nForce 590 SLI chipset. These kinds of parallels in performance shouldn't be much of a surprise... The AMD Athlon64 has always been very consistent when it comes to performance, and it's nice to see there are no compatibility problems between nVIDIA and ATi. PCSTATS was unable to conduct dual Crossfire Edition videocards vs. dual SLI videocards because we simply do not have any CrossFire Edition Master videocards.
The ECS KA3 MVP Extreme motherboard retails for $145 CDN ($130 US, £68 GBP) and comes with a decent feature set. A 7.1 channel High Definition Azalia audio controller, Gigabit and 10/100 network cards, IEEE 1394a and an additional 2 channel Serial ATA II RAID controller. The KA3 MVP Extreme has decent upgrade options with one open PCI Express x1 and two PCI slots.
ECS' KA3 MVP Extreme motherboard performed very well in testing and it had no issues keeping up with a collection of other Socket AM2 motherboards. It would be a waste though to use this board strictly for workstation work since it's quick in the 3D benchmarks as well. The KA3 MVP Extreme was easily as fast as the Foxconn C51XEM2AA or Asus M2-CROSSHAIR in all tests from 3DMark05/06 to FarCry, Doom 3 and Quake 4. That's good company to be in, those two are some of the faster Socket AM2 boards on the market.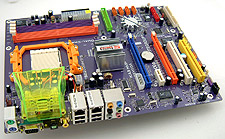 Overclocking was not the ECS's KA3 MVP Extreme strong suit, but it did reach 310 MHz which is about the fifth best among the list of socket AM2 AMD Athlon64 motherboards PCSTATS has evaluated. That's high enough for you to find out the maximum speed of your processor no matter what type of cooling you have. It would have been nice if ECS provided a bit more flexibility when it comes to voltages, but we're still pretty satisfied with the results.
The ATI Crossfire Xpress 3200 chipset is a very capable platform when compared to the nVIDIA nForce 590 SLI, and best of all it's moderately priced. If you're going to upgrade to Socket AM2, there's no reason to be afraid of something based on ATi's CrossFire Xpress 3200. It's no slouch.
Find out about this and many other reviews by joining the Weekly PCstats.com Newsletter today! Catch all of PCSTATS latest reviews right here.
Related Articles
Here are a few other articles that you might enjoy as well...
- Epox EP-MF570 SLI nForce 570 SLI Motherboard Review
- Gigabyte GA-M59SLI-S5 nForce 590 SLI Motherboard Review
- Gigabyte GA-965P-DS3 Intel P965 Express Motherboard Review
- Biostar TForce P965 Deluxe Motherboard Review
- Albatron KM51PV-AM2 Geforce 6150 Motherboard Review