ECS KA3 MVP Extreme Motherboard Highlights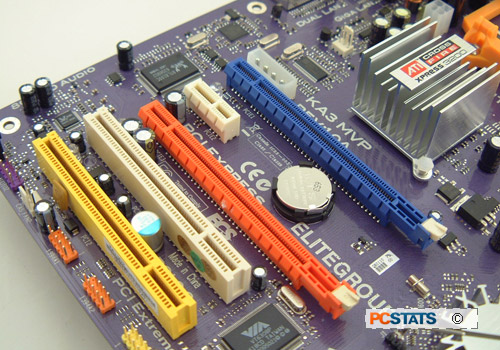 ECS really should use different PCI Express locks, the ones on its motherboard are extremely difficult to use. In between the expansion slots are blue LEDs which blink at random - yay. If you find the system unstable during load, try connecting the power supply to the motherboard through the auxiliary molex power connector just above the PCI Express x16 slot. While PCI Express devices other than videocards are still rare, it's nice to see this board supports higher bandwidth peripherals thanks to a PCI Express x1 slot. For legacy hardware, two PCI slots are provided. The ATI Crossfire Xpress 3200 chipset is cooled with a moderately sized passive aluminum heatsink.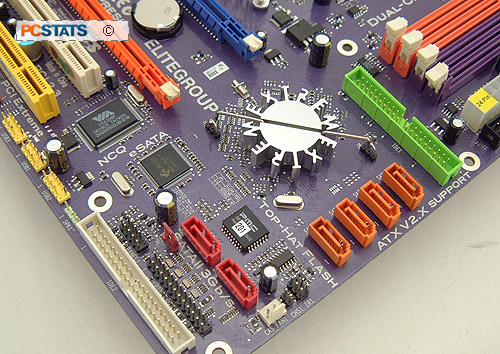 The "Extreme" heatsink on the ATi SB600 Southbridge looks fancy but doesn't do much in terms of cooling, luckily the chipset doesn't generate all that much heat. ECS does not lable the front panel I/O connectors so don't put that manual away just yet, you'll need it when connecting things. There are three USB2.0, and two IEEE1394 headers on the PCB. Only one bracket is included and it uses just one USB/Firewire header. The four orange 3GB/s SATAII connections run through the ATI SB600 southbridge, the two red 3GB/s SATAII ones through the Jmicron 'JMB363' chipset. The parallel port header is positioned right above the white IDE connection - not a great location if the parallel printer port bracket is actually connected.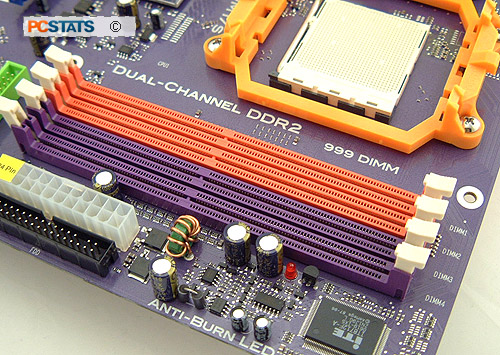 There is plenty of space between the CPU socket and DDR-2 memory slots so it's not a big deal if you install a large after market CPU heatsink. If the red ANTI-BURN LED is shinning, that means you have a hardware problem and you will need to recheck your installed hardware again. It's ECS' way of protecting you from damaging your hardware. The ECS KA3 MVP supports DDR-2 800/667/533/400 RAM in a dual channel configuration.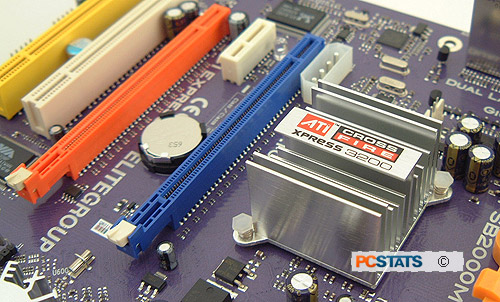 Running dual PCI Express x16 ATI Crossfire Edition videocards can use a lot of energy that's why there is a molex power connector just above the first PCI Express slot. The ATI 'RD580' Crossfire Xpress 3200 chipset supplies 32 PCI Express lanes in total to support the two 16-lane PCI Express x16 videocard slots.