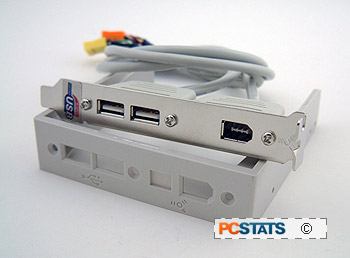 ECS's Extreme line of motherboards include a ton of stuff in the box, this is especially nice considering most ECS motherboards only come with the basics. One of the most useful accessories is the 3.5" front panel I/O bay connector. It allows you to move the rear USB/Firewire expansion bracket to the front of the case thanks to an ingenious little piece of plastic. With the ECS KA3 MVP Extreme, if you don't have front panel USB or IEEE 1394a, that's not a problem because you will now with this board.
Other goodies include an eSATA bracket; external Serial ATA is gaining popularity and this is a must have if you're interested in external storage devices. Many manufacturers are removing the parallel port from the rear I/O, ECS does this as well but just in case you need it for an old legacy printer, a parallel port expansion bracket is provided.
ECS also throws in a 6' Cat5 straight through network cable with the motherboard! Many households have more than one computer and networking is between them is one of the first things you'll want to go about setting up. With a network cable already in the box, you're able to connect the new system to the network or game LAN instantly.
BIOS Backup and Protection
ECS has come up with a novel way of protecting end users from the experience of a bad BIOS flash. Rather than mounting two BIOS chips on the motherboard itself, a second BIOS IC is supplied in a specialized double-sided BIOS socket. ECS call this backup solution the "Top-Hat" flash module.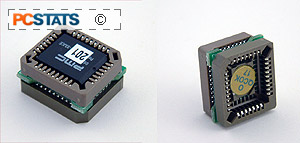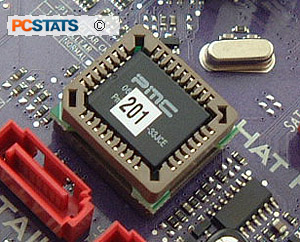 Since the surface mounted BIOS ROM contacts are exposed on the actual motherboard, the backup ECS "Top-Hat" flash module can simply be clipped into place on top of the board mounted BIOS chip. If a BIOS flash has gone bad, the backup will then be used to boot the PC so that the primary BIOS can be restored.
The ATI 'RD580' CrossFire Xpress 3200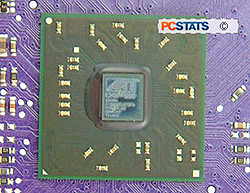 The ATi 'RD580' Crossfire Xpress 3200 northbridge is where all the dual videocard Crossfire action occurs. To take advantage of the multi-GPU functionality of the ECS KA3 MVP Extreme motherboard you'll need two PCI Express x16 ATI Radeon videocards of the same GPU class, with one being the special Crossfire Edition Master card.
Crossfire works differently from nVIDIA's SLI and it'll get more confusing with ATi's next generation Crossfire videocards at that. For the moment, if you want to run Crossfire with ATi's latest and greatest, you first have to team up a "CrossFire Master" videocard with a non master card of the same GPU class. To differentiate between the two, if it doesn't say 'CrossFire Master' on the packaging, then it's a regular PCI Express videocard.
After installing the two videocards into a ATi Crossfire compatible motherboard, you must then connect the 'Crossfire Master' videocard to the non master via a special external cable for the two to split rendering loads properly. ATi went this route because it thought nVIDIA's internal SLI connector card was clumsy. In all frankness, we don't like ATI's method at all.
There are rumors floating around that next generation CrossFire Edition videocards will do away with the external jumper cable altogether, and instead will run multi-videocard Crossfire through the PCI Express bus itself. Here's to hoping, we'll see early in 2007 what actually happens... now back to the 'RD580' Xpress 3200 chipset.
Technically speaking, the ATI 'RD580' Crossfire Xpress 3200 core logic has support for 40 PCI Express lanes in total. Of those, 32 lanes are dedicated to the videocard(s) and the other 8 PCI Express lanes are reserved for expansion peripherals. The 'RD580' is currently the only chipset in the world that supports two PCI Express x16 slots; nVIDIA achieves similar results by splitting the two PCI Express X16 32 lanes between its northbridge MPP and southbridge MCP.
ATi's CrossFire Xpress 3200 is a dual chip solution and is separated into the traditional Northbridge and Southbridge designation. The ATI 'RD580' communicates with the socket AM2 processor over a HyperTransport connection at a rate of 2000MT/s, while a dedicated high speed 'A-link' connects the ATI 'RD580' northbridge and ATI 'SB600' southbridge chipsets together.
The CrossFire Xpress 3200 is teamed up with the ATi 'SB600' chipset which has an integrated six channel Serial ATA II controller support hot plugging, can do RAID 0 and 1. Please note though that only four channels will be available internally while the other two Serial ATA II PHYs are intended for eSATA use. ATi supports one parallel IDE channel with this chipset. It's unfortunate but unsurprising as both Intel and nVIDIA have done the same thing with their respective chipsets. The 'SB600' supports 10 USB 2.0 channels and a maximum of six 32 bit PCI slots can be employed for expansion purposes.
Let's take a walk around the ECS KA3 MVP Extreme motherboard now!