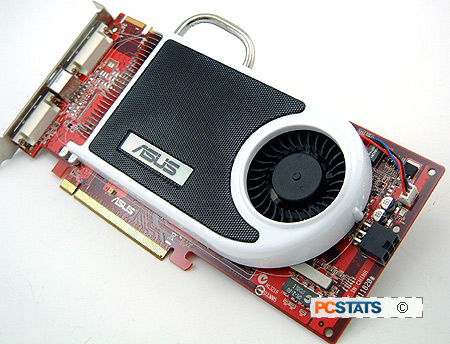 There's no such thing as the perfect videocard, but the PCI Express Asus EAX1950PRO HTDP/256M/A is darn near one of the best mainstream graphics cards out on the market right now.
Based on ATi's Radeon X1950 Pro 'RV570' GPU, the Asus EAX1950 Pro certainly has a lot to offer for a retail price of about $250 CDN ($230 US, £116 GBP). It delivers performance a class above its price point, and although we were unable to test the Native Crossfire, we like the improved bridge interconnect card system ATI now employ.
Asus equip the EAX1950 Pro videocard with a nice quiet custom heatsink, but it takes up an additional expansion slot of space. The software package is thinner than water, but at least you have a component output cable splitter to play with.
The ATi Radeon X1950 Pro core is the first to support ATi's new native implementation of CrossFire. Considering there were many knocks against the previous version, ATi has basically addressed everything that matters with the new setup. Gone are clumsy external connector cables and the need for a CrossFire Master videocards, now you can connect two vanilla Radeon X1950 Pros together for dual videocard rendering goodness... provided you get two of those bridge interconnect cards.
The Asus EAX1950PRO HTDP/256M/A was only a mediocre overclocker, and the speeds it reached didn't affect performance significantly. I don't think this will be much of an issue when you consider its awesome stock performance and aggressive price. The stock performance of the Asus EAX1950PRO/HTDP/256M/A was pretty awesome on the whole. It's not the fastest videocard PCSTATS has tested but it holds an excellent value. ATi has done well with its Radeon X1950 Pro, and PCSTATS is happy to see such a strong mainstream alternative from a manufacturer that seems to have lost its focus in recent months. If the Asus EAX1950PRO HTDP/256M/A fits you budget and gaming needs, it is well worth your consideration.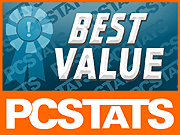 Find out about this and many other reviews by joining the Weekly PCstats.com Newsletter today! Catch all of PCSTATS latest reviews right here.
Related Articles
Here are a few other articles that you might enjoy as well...
- Gigabyte GV-NX76T256D-RH Silent Geforce 7600GT Videocard Review
- nVidia's Geforce 7950GX2 and the MSI NX7950GX2-T2D1GE Videocard Review
- MSI NX7900GT-VT256E-HD HDCP-enabled Geforce 7900GT Videocard Review
- Asus EN7900GT TOP/2DHT/256M/A Videocard Review
- Asus EN7600GT Silent /2DHT/256M/A Geforce 7600GT Videocard Review