Overclocking Results:
We didn't really know what to expect in terms of overclocking for the Asus EAX1950PRO/HTDP/256M/A videocard, but we certainly were hoping for a good run. The Radeon X1950 Pro core is clocked at 575 MHz by default, and the 256MB of memory runs at a pretty brisk 1380 MHz. As usual we'll start overclocking the videocard core first.
Increasing the core speed from 575 MHz in 5 MHz increments, we easily surpassed the 600 MHz mark before the GPU hit a wall at 606 MHz. Anything higher and the 'RV570' core would simply lock up. I'm not sure what was holding the little GU back, temperatures were not high and the heatsink was not that hot to the touch either. Oh well sometimes that's just the luck of the draw I suppose.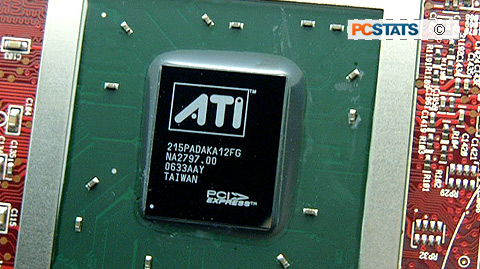 Next up was the 256MB of Samsung GDDR3 memory. The little BGA DRAM modules had the following markings "K4J55323Q6-BC14." With a 1.4ns rating, we were hoping for a good memory overclock here. Starting at 1380 MHz, the memory speed was increased in 10 MHz steps.
The Samsung GDDR3 memory passed the 1400 MHz mark without breaking a sweat, coasted past 1428 MHz, and flew by 1450, 1460 and 1470 MHz with ease. It was not until the Samsung GDDR3 memory reached 1485 MHz that we had to stop. That's 85 MHz faster than stock memory clock speed.
Overall the Asus EAX1950PRO HTDP/256M/A yielded a rather mild overclock, and we don't expect much of a performance boost from these small changes.... but then again we've been surprised in the past. You'll have to look at the benchmarks to see how the Asus EAX1950PRO HTDP/256M/A performs while overclocked so little.
Prelude to Benchmarks
The details of how the Asus EAX1950PRO HTDP/256M/Atest system was configured for benchmarking; the specific hardware, software drivers, operating system and benchmark versions are indicated below. In the second column are the general specs for the reference platforms this ATi Radeon X1950 Pro based videocard is to be compared against. Please take a moment to look over PCSTATS test system configurations before moving on to the individual benchmark results on the next page.