The ATi Radeon X1950 Pro 'RV570' VPU supports 36 pixel shaders along with 8 vertex shaders. The memory uses a 256-bit 8 channel GDDR3 memory controller that natively supports the PCI Express x16 bus. It's a DirectX 9.0C compatible GPU, which means it supports all the latest games that employ Shader Model 3.0, Full speed 32-bot floating processing, High Dynamic Range (HDR) rendering with floating point blending and anti-aliasing, and high performance dynamic branching and flow control. The less used OpenGL 2.0 standard is also fully supported by the Radeon X1950 VPU. DirectX 10 is not supported, something to keep in mind for when you eventually upgrade to Windows Vista.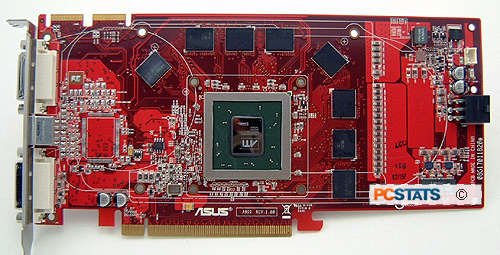 The Radeon X1950Pro also supports your standard allotment of 2x, 4x and 6x Anti-aliasing modes, which incorporate both sparse multi sample style rendering as well as temporal anti-aliasing and adaptive anti-aliasing mode. There is lossless colour compression (up to 6:1) at all gaming resolutions, and the X1950 Pro can handle 2-16x anisotropic filtering modes.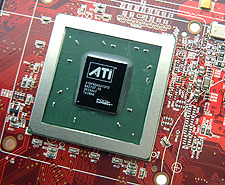 ATi has made some well needed changes to its AVIVO video engine, and it now supports dual independent displays; each of which are capable of 30 bits per pixel. There is full symmetry between both display heads, and each display offers resolutions beyond 2560x1600 pixels for those of you with wide screen LCD displays. A component output (Y, Pb, Pr) dongle allows the Radeon X1950 VPU to connect to HDTV displays for a high bandwidth, high quality, viewing experiences. The card is HDCP compliant.
There is seamless integration of pixel shaders with video for real live video too. The 'RV570' VPU supports MPEG 1/2/4 encode/decode acceleration as well as all DTV/HDTV decoding. Other video specific features include hardware motion compensation, iDCT, DCT and Colour Space Conversion.
The ATi Radeon X1950 Pro normally operates with a core speed of 575 MHz and a memory speed of 1.38 GHz. That's a bit lower than the Radeon X1950 XTX series which runs at 650 MHz/1.55 GHz, and the Radeon X1950 CrossFire Edition (for the Radeon X1950 XTX, the X1950 Pro does not require a CrossFire specific card) which runs its core at 625 MHz and memory at 1.45 GHz. If you decided to overclock the Asus EAX1950PRO to XTX levels, the videocard will not perform the same because ATi's flagship model has 48 pixel shaders compared to the X1950 Pro's 36 pixel shaders.
Now, lets take a closer look at what native Crossfire has to offer...
Native Crossfire on the X1950 Pro
ATi's first iteration of its dual videocard technology, called CrossFire, had some severe limitations compared to nvidia's method of implementation. First and foremost, Crossfire required the use of special Master Radeon videocards which were often priced well above what the regular models cost. Compound that with the limited availability of these Master cards and the cumbersome cable set up and it was really no great surprise that ATI's CrossFire took off like a lead duck.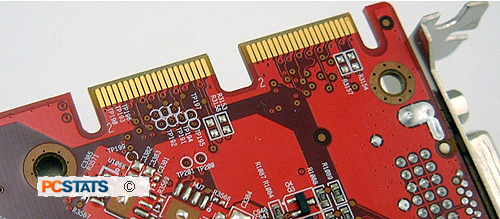 ATi addressed many of these with its Radeon X1950 Pro and all subsequent future Crossfire compliant videocard generations. Instead of requiring a special Master videocard, you can now simply match up any two cards from the same product family. In our case, that would be twp Asus EAX1950PRO videocards. Gone is the external cable connection, the new Native CrossFire now relies upon a pair of Bridge Interconnect cards, similar in style to nVIDIA's SLI system.
The Crossfire Bridge Interconnect system operates on a 24bit (2 x 12bit) connection, and supports speeds up to 350MHz. Thanks to the higher bandwidth internal connection CrossFire support has been boosted to resolutions of 2560x2048. The first version of CrossFire was limited to 1600x1200 because the older TMDS cable connection would not support as much bandwidth.
There are two connectors on the Radeon X1950 Pro videocard and both are suppose to be connected in order for native CrossFire to be enabled. No bridge interconnect cards are included with the Asus EAX1950PRO/HTDP/256M/A package, although the identical "Asus EAX1950PRO Crossfire/HTDP/256M" videocard does come with two.