As mentioned earlier the Asus EAX1950PRO/HTDP/256M/A uses a custom dual slot cooler. The Asus EAX1950PRO HTDP/256M/A has a nice quiet custom thermal solution. The VGA heatsink occupies a little more than one expansion slot worth of space, effectively making it a dual slot cooler. The die-cast aluminum body of the heatsink comes in contact with all eight GDDR3 memory modules, and a special copper heat spreader makes direct contact withe 'RV570' Radeon X1950 PRO GPU. A nickel plated copper heatpipe is used to distribute heat across a small array of aluminum cooling fins, which are exhaust the heat as air from a squirrel cage fan moves across the fins.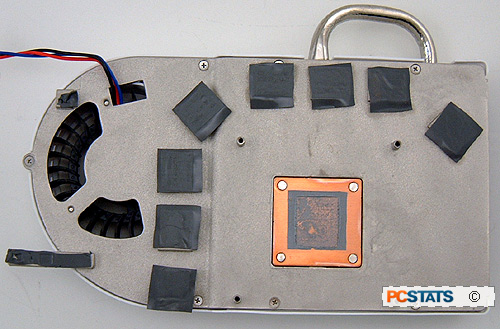 The 50mm squirrel cage fan is temperature controlled and during testing the Asus EAX1950PRO/HTDP/256M/A ran very quietly. The fan spun at low RPMs even when running at full load, for much of our tests. If your home is dusty, it's a good idea to clean out the fan and radiator of dust and debris every so often. If you start to hear the Asus EAX1950PRO HTDP/256M/A, there's a good chance so much dust has built up that it is not able to do its job well enough anymore. A vacuum or clean paintbrush works wonders, just remember to discharge yourself of static electricity first.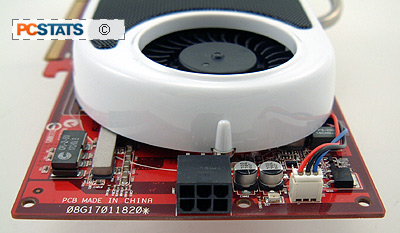 ATI AVIVO for High Definition Content
Despite an interesting name, AVIVO does not stand for anything specific. It is a collection of different video technologies that share a common name, like Centrino or ViiV for example. First and foremost, ATI's AVIVO includes a hardware accelerator for MPEG-2/DVD Microsoft Windows Media HD video standards (WMV HD) and H.264 standards.
VIVO is built into the Asus EAX1950PRO HTDP/256M/A videocard and helps to enable such features as Home Theatre PCs (HTPC) or Personal Video Recorders (PVR) with the appropriate 3rd-party software applications. AVIVO can automatically adjust gamma and colour correction, and that should enhance picture quality too.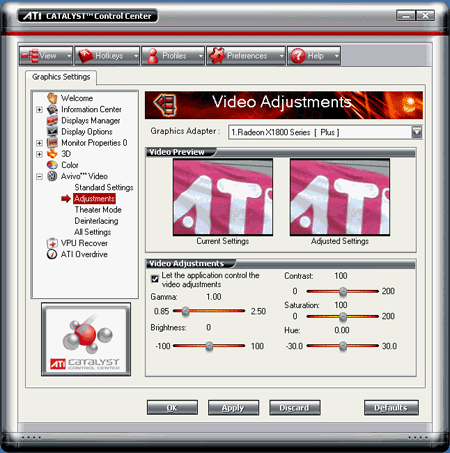 High Fidelity Colour allows for 10-bits per colour channel, which translated basically means a more vibrant picture. There is also a high quality 12-bit analog-to-digital converter to reduce picture noise as well.To test AVIVO's HD accelerating capabilities, we played a HD video through Windows Media Player 10 (the movie can be downloaded from Microsoft's WMV HD Content Showcase). The Discoverers (IMAX) video is available in both 720P and 1080P formats, and CPU utilization was monitored during playback through Task Manager to give a general indication of system load.

AVIVO does an excellent job at keeping the Asus EAX1950PRO's GPU utilization to a minimum. When running the 720P version of the Discoverers video, CPU usage stays between 18-24%. That's pretty good and allows you to run many tasks in the background.

I'm not sure what to make of the 1080P results for this same test. We would expect GPU usage to be lower when running the higher bandwidth 1080P video, but it was actually a bit less than the 720P version. Loads hovered around 11-20% on average.
Next up, PCSTATS tries its hands at overclocking the Asus EAX1950PRO HTDP/256M/A videocard!!