The Zalman ZM600-HP power supply is black in colour and it has one 120mm fan to keep things inside cool. The lone fan draws cool air into the powersupply, then it's blown over an integral heatpipe and cooling fin assembly before the warm air exhausts from the computer. The fan itself rotates slowly and produces little noise and vibration. The honeycomb grill at the back allows hot air from the system to exit with the least amount of turbulence.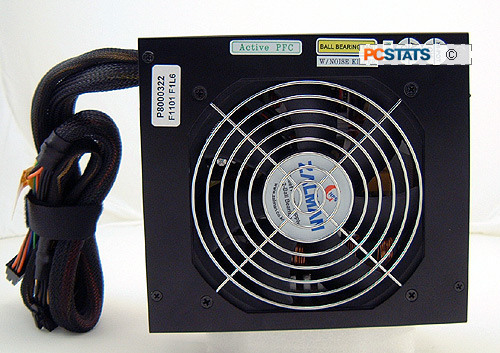 The back of the Zalman ZM600-HP power supply is almost all honeycomb grill, and behind it the heatpipe based cooling fin assembly where a fan would typically go. Here you will find the power cord plug as well as a hard power switch. The little Full Range sticker indicates that the ZM600-HP does not require 120/220V voltage selection.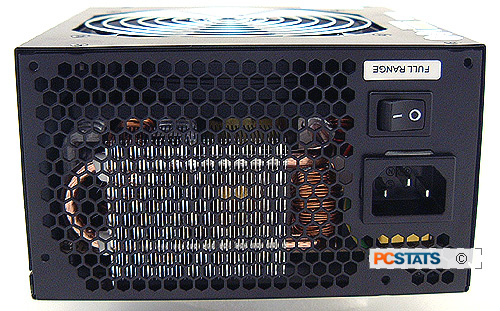 The front of the Zalman ZM600-HP power supply is where much of the action is. The only cables that come pre-attached to the power supply are the main 24 pin ATX power cable, an ESP12V connector (splits into an ATX12V connector for older motherboards) and a six pin PCI Express power connector for videocards.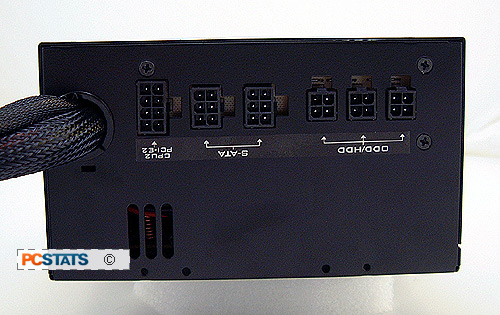 Starting with the three four pin connectors on the right of the power supply, those are for the molex/floppy drive power connectors. To the left of that, the two six-pin power connectors are for the Serial ATA power connectors. The last power connector is for either a second ATX12V/ESP12V connector (if you're running dual processors) or for a second six pin PCI Express power connector - your choice, one or the other.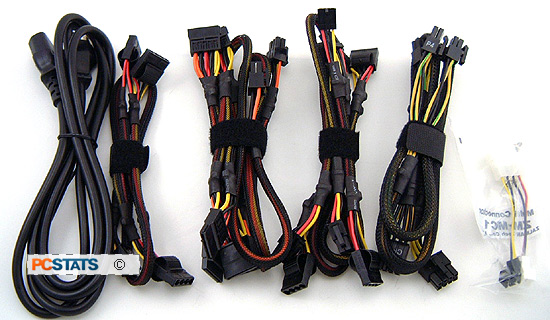 The main 24 pin ATX, ESP12V and 6 pin PCI Express power connector are all 50cm in length. The modular cables included in the package are also ~50cm to the first connector on the daisy chain. The cables are long enough even if you use a really large case, so you're covered on all angles.
All in all, Zalman includes seven modular cables with the power supply, three for the molex/floppy power cables (seven molex, two floppy connectors in total), two Serial ATA power cables with a total of six power connectors and two miscellaneous cables for either a CPU or second PCI Express power connector. To keep cable clutter down, all the wires are wrapped in wire loom.