Every component inside a PC generates heat, from the processor to the videocard, memory and power supply. To deal with this, manufacturers have been installing larger and faster spinning fans into PCs, but that ratchets up the noise level. With system power requirements shooting through the roof, finding a power supply that meets the power demands of a modern computer loaded with SLI videocards and multi-core processors, while keeping the noise level down, is a challenge.
Luckily for us, power supply manufacturers have begun to release low noise units - so the last frontier of a noisy PC is finally being cracked. It's no surprise that Zalman has launched a low noise power supply of its own, and no surprise then that the 600W unit packs in components from a standard heatsink to augment its cooling capabilities. Instead of building its own power supply outright, Zalman teamed up with SPI (Sparkle Power Inc) to introduce the ZM600-HP power supply to the world. Sparkle are in the same league as PC Power & Cooling and Seasonic in terms of quality, and heck the ZM600-HP has already received both nVIDIA SLI and AMD CrossFire certification!
At the heart of the Zalman ZM600-HP is a short length of heatpipe that connects part of the power supplies' power circuitry to a compact aluminum heatsink fin array. The aluminum fins take the place of a second fan, and those horribly inefficient power supply heatsinks... well for the most part. More on this in a bit.
At 600W, the Zalman ZM600-HP power supply is good for all types of systems, from a quiet entertainment HTPC to a high end gaming system with two videocards. At $152 CDN ($132 US, £67GBP), the Zalman ZM600-HP is not overly expensive either, so it has good value too.

Zalman ZM600-HP Power Supply

Includes:

User's Manual, Power Cable, Screws, Modular Cables.
The Zalman ZM600-HP power supply adheres to the ATX12V 2.03/ATX12V 2.2 standard and is even ESP12V compatible. That allows the ZM600-HP to be used in virtually every PC out there. At a standard 139 x 150 x 85mm in size, the Zalman ZM600-HP should have no difficult fitting in a compact ATX chassis.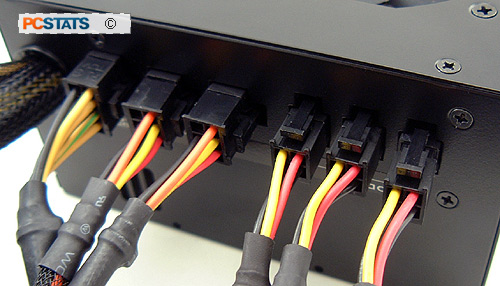 The Zalman ZM600-HP power supply is cooled by a single large 120mm ADDA fan (AD1212MB-A71GL) which is temperature controlled. During testing the ZM600-HP power supply was definitely very quiet would be inaudible when installed into a system. Zalman clearly states on the power supply sticker that there are no user serviceable parts inside the PSU and the fan is soldered to the power supply PCB. There is even a blue LED under the fan to give it a nice back-lit effect when. The fan itself is not illuminated though.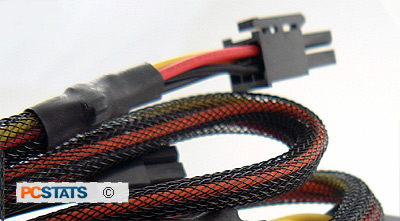 The ratings on the Zalman ZM600-HP power supply are definitely impressive. According to the label the +3.3V line can output 24 Amps, the +5V Amps and the two rails can have a combined output of 155W.
There are four +12V rails, and each can handle up to 16 Amps of load, the 12V output is set to a maximum of 504W. The maximum combined wattage of the +3.3V, +5V and +12V rails is 581.5W. The -12V and +5VSB lines have a combined wattage of 18.5.
The Zalman ZM600-HP supports Active Power Factor Correction (Active PFC). That circuitry does away with the need for an external voltage lever switch (115/230) on the power supply. That means no matter where you are in the world, the ZM600-HP will work.
Zalman gives the ZM600-HP power supply a three year warranty which should be long enough to cover you through two system builds if you're an enthusiast. Three years is pretty standard, we would have preferred Zalman include a five or lifetime warranty but it's still better than the industry standard.