Easily the biggest feature of the Zalman ZM600-HP power supply is its heatpipe based thermal solution which enhances the removal of heat from the system. Attached to a small aluminum heatsink are eight MOSFETs which then come in contact with the heatpipe. The heat is transferred by the heatpipe to an aluminum radiator at the back of the power supply. It should be noted though that an additional eight MOSFETs on the other side of the power supply are cooled with standard passive aluminum heatsinks.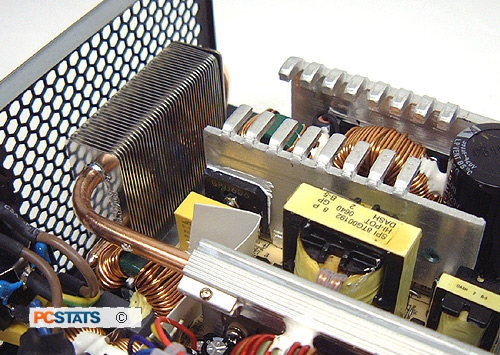 The Zalman ZM600-HP power supply supports Over Voltage Protection, Over Current Protection, Short Circuit Protection, Over Temperature Protection and Under Voltage Protection. The power supply can operate in temperatures between 0-50C and in relative humidity between 5-95%. Zalman is very clear that there are no user serviceable parts inside the ZM600-HP unit, and removing the cover voids all warranties!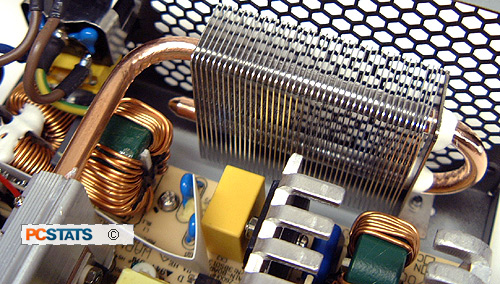 To keep air moving through the powersupply, the Zalman ZM600-HP relies on a 120x120x25mm ADDA DC Brushless fan (AD1212MB-A71GL) which pushes 83.21CFM of air. The fan generates about 38 dBA at full load.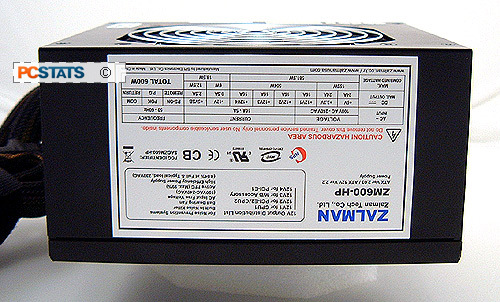 Never once during testing did the Zalman ZM600-HP get anywhere near that though and it's one of the quietest power supplies that we've tested. Up next, PCSTATS will load test the Zalman ZM600-HP power supply to test its power efficiency....