The HEC Zephyr 650 supports Over Voltage Protection, Over Power Protection, Short Circuit Protection, Over Temperature Protection and Over Current Protection. The Zephyr 650 is designed to operate in temperatures between 0-50 degrees Celsius and between 20-85% relative humidity.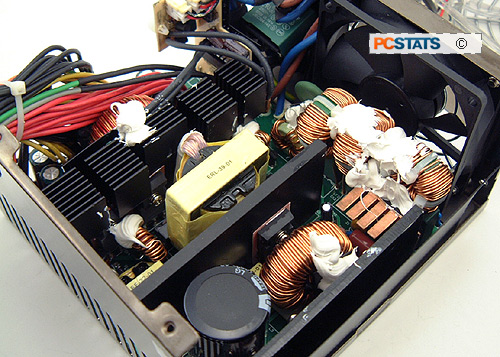 Removing the top of the power supply reveals the well organized internals of the HEC Zephyr 650 power supply. Just keep in mind that removing the cover voids all warranties and officially there are no user serviceable parts inside the power supply!
To keep things cool the primary 120mm blue LED fan spins at all times and is temperature controlled so it remains quiet most of the time. The temperature sensor is mounted to one of the powersupply heatsinks, for a direct reading. In instances where the power supply load goes above 60%, the 80mm rear exhaust fan starts to spin. Overall the HEC Zephyr 650 produced a minimal amount of noise during our tests, and you wouldn't notice the power supply when installed into a case.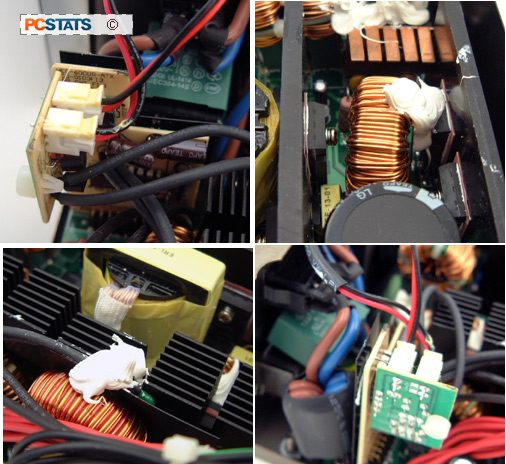 There are no real unique features of the HEC Zephyr 650, it looks like well... a power supply. The majority of the MOSFETs are cooled by a finned extruded aluminum heatsink while four other large MOSFETs are cooled by a single piece of aluminum that's about 5mm in width. The fuse is in a difficult to reach position and while it is replaceable, you would no doubt damage the power supply getting there.
Up next, power supply load testing.