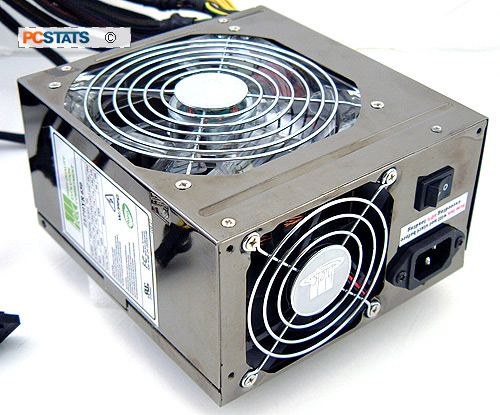 Computer enthusiasts are more educated than before about the benefits of efficient hardware. Thus many people are equipping their computers systems with quality power supplies instead of the cheapest thing they can find. Power supply related damage was the number one thing you brought up when PCSTATS did a survey a couple of years ago on PC failures...
The Zephyr line is HEC's high end series of power supply. It has achieved both ATi CrossFire and nVIDIA SLI certification. That itself should tell you that HEC power supplies are pretty good. The Zephyr 650 model is HEC's flagship power supply, and it comes in a cool dark chrome finish,. The HEC Zephyr 650 pumps out a maximum of 650W of power, and that is sufficient for most enthusiast-level PCs.
The HEC Zephyr 650W retails for about $150 USD ( $180CDN / £75 GBP).
From testing we see that the HEC Zephyr 650 can deliver a consistent power source for your computer. It's not the most efficient power supply we've tested, as it requires 185W of power for a 120W load, but it's better than many early generation power supplies. In general, the entire power supply industry is becoming more efficient which translates into less power usage and less cost to run your PC. HEC does many things right with the Zephyr 650 and it's a good power supply, plain and simple.
Find out about this and many other reviews by joining the Weekly PCstats.com Newsletter today! Catch all of PCSTATS latest reviews right here.
Related Articles
Here are a few other articles that you might enjoy as well...
- Corsair HX620W Modular Power Supply Review
- Seasonic M12 700W Power Supply Review
- Seasonic S12 Energy Plus SS-650HT 650W Power Supply Review
- Powerware 5125 1000VA UPS Review - Ready for Blackout Season?
- Mushkin Enhanced XP-650 Power Supply Review