HEC is a power supply manufacturer who primarily deals with OEM's, but also has a few models for the retail market. PCSTATS was fairly pleased with the HEC WinPower Win 550UB and Ace 580 UB power supplies reviewed several months back, and it's good to see HEC has refreshed its retail product lineup once more.
The new HEC Cougar and Zephyr series power supplies look every bit as good as the competition, but HEC has obviously done its homework here. Cautious consumers should take comfort that these units pass both ATi CrossFire and nVIDIA SLI certification.
The Zephyr 650 is HEC's flagship power supply. With a 650W rating, the Zephyr 650 PCSTATS is testing today can certainly dish out enough power to keep multiple hard drives and multiple PCI Express videocards running happily along. The chrome plated power supply chassis features a distinctive 120mm blue LED illuminated fan, and a smaller 80mm fan at rear. We'll find out shortly whether the HEC Zephyr 650 is in the same class as Seasonic or Forton. The Zephyr 650W retails for about $150 USD ( $180CDN / £75 GBP).

HEC Zephyr 650W Power Supply

Includes:

User's Manual, Power Cord, Velcro Ties, Screws.
The HEC Zephyr 650 adheres to standard ATX dimensions (139 x 150 x 85mm), and does no use modular cables. HEC's Zephyr 650 supports the ATX 2.0 standard, and is natively equipped with a 24 pin ATX main power connector. If you're using an older motherboard, pins 21-24 are detachable. HEC has you covered no matter the type of system or motherboard you're using. The Zephyr 650 has both an ESP12V and ATX12V connectors.
According to HEC, both the +3.3V and +5V line can deliver a maximum of 24 Amps each for a total combined output of 140W. There are four +12V rails with 17 Amp ratings each for a combined power output of 576W.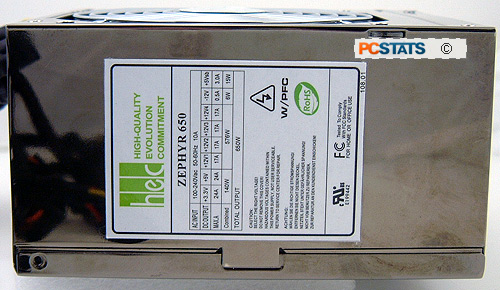 The HEC Zephyr 650 supports Active Power Factor Correction (A-PFC) which eliminates the need for an external voltage level switch (115/230) on the back of the power supply. Essentially that means the HEC Zephyr 650 power supply will function no matter where you are in the world.Now that we've covered all of that, let's take a closer look at the HEC Zephyr 650 powersupply from a couple different angles, and take a quick peek inside...