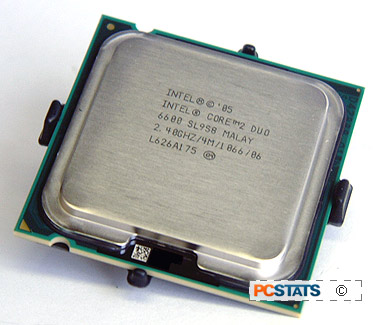 The Intel Core 2 Duo is a step above what Intel delivered with the Pentium 4/D series. Not only is this architecture faster in terms of performance, it uses less energy, creates less heat, and is not priced through the roof.
The Core 2 Duo does a very good job as you've seen in the benchmarks, making the AMD Athlon64 X2 and FX look slow by comparison.
Of all the Intel Core 2 Duo processors released so far, easily the tastiest is the E6600 model. Moderately priced at $354 CDN ($313 US, £164 GBP), the Core 2 Duo E6600 combines the best of all worlds; a relatively high clock speed at 2.4 GHz and importantly a 4MB L2 cache.
As we've seen several times in the past, L2 Cache sizes greatly affect overall PC performance and moving from 2MB to 4MB is a big jump!
While chipset support is pretty prevalent, it's possible for you to match up the Intel Core 2 Duo with the wrong motherboard. At the moment the only 100% compatible Core 2 Duo chipsets are the Intel P965 Express and nVIDIA nForce 500 and 600 series. If you shop carefully for recent 945-series motherboards you can also get a good inexpensive platform for the Core 2 Duo.
Aside from the obvious performance gains, the Intel Core 2 Duo E6600 has an improved TDP (Typical Design Power) of just 65W, down from 95W of its brethern. PCSTATS total system power draw tests showed us that the processor is the most efficient CPU to pass through the PCSTATS test labs to date. The Core 2 Duo E6600 platform had the lowest overall power draw at idle, and under dual core load the processor was almost 100W more efficient than a Pentium D 940. Remarkably, with both cores stressed to 100%, the Core 2 Duo E6600 only consumed 8W more than an AMD Sempron 3600+ processor. Simply amazing, just imagine what a 45nm cores will bring to the table.
With low power usage the Intel Core 2 Duo E6600 is easy to cool. Many LGA 775 motherboards now allow users to turn off the fan completely when the system idles. Trust me, it is freaky the first time you hear it. All Socket 775 heatsinks on the market are compatible with the Core 2 Duo series of processors, or better yet just stick with the stock heatsink.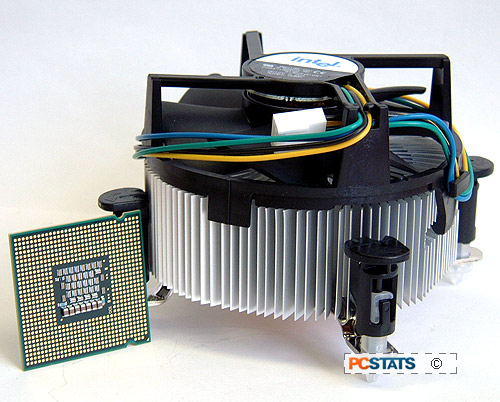 In the benchmarks we saw the Intel Core 2 Duo E6600 trounce the other processors pretty much every time. There were a few benchmarks like Office Productivity and ScienceMark that performed slightly faster on the AMD platform, but the general consensus is the Intel Core 2 Duo is wicked fast. Whether you're crunching data like DiVX compression or just zipping a file, Intel has an extremely fast processor. When it comes to gaming we saw titles like Quake 4, FarCry and FEAR run at mind blowing framerates. It's beginning to seem like AMD is no longer offering the fastest gaming processor.
Enthusiasts will love the E6600, it overclock like a dream. From its stock speed of 2.4 GHz PCSTATS was able to push this chip to 3.4 GHz with stock cooling and a set of CAS4 Corsair DDR2-800 sticks. Break out your higher end thermal solutions or phase change cooling if you want to try and go even faster.
PCSTATS plans on running the Core 2 Duo E6600 under the Prometeia for some hardcore overclocking action in a little while, but we'll save that for another article. ;-)
If you're in the market for an upgrade, the Intel Core 2 Duo E6600 processor is one of the the best routes to follow. Sure Intel just released a quad core Core 2 Quad and Extreme processors but they won't go native quad-core till the fall of 2007. With most applications only able to use a single core, let alone two or four, the quad core chips are currently overkill. Bottom line, the Intel Core 2 Duo E6600 is a kick ass processor. It doesn't break the bank, it delivers outstanding performance, and it's simply an awesome processor!
Find out about this and many other reviews by joining the Weekly PCstats.com Newsletter today! Catch all of PCSTATS latest reviews right here.
Related Articles
Here are a few other articles that you might enjoy as well...
- AMD Athlon64 X2 4800+ 65nm Processor Review
- Intel Pentium M 740 1.73GHz socket 479 Processor Review
- AMD Sempron 3600+ 2.0GHz Socket AM2 Processor Review
- Intel Pentium D 940 3.2GHz Dual Core Processor Review
- AMD Athlon64 FX-62 and X2 5000+ Socket AM2 Processors Reviewed
- AMD Athlon64 FX-60 Dual Core Processor Review
- The Underclocking Experiment
- AMD Athlon64 X2 4800+ Processor Review