Intel's Core 2 Duo processor kicks some major butt. PCSTATS has not seen a jump in CPU performance like this since... well for as long as we can remember! When a new processor architecture is released, at first it runs just slightly faster than the previous generation but not this time around. As you'll see in the benchmarks the Core 2 Duo is a good 25% faster than the Pentium D family. Team that up with the fact that it costs less and consumes less power, and it is easy to see that Intel has a winner on its hands.

Microsoft Windows Vista has high hardware requirements for an operating system, if you're planning on using this OS, you will probably have to upgrade something in your computer. More than likely you will need to increase the amount of memory, or drop in a new processor, DirectX 9.0C videocard or hard drive. To run Windows Vista Ultimate edition, you going to need a PC that is pretty powerful if you want to use all the bells and whistles.

Software designed to run on Microsoft Vista should incorporate better SMP (Symmetric MultiProcessing) support so we should start to see the benefits of the multi-core Core 2 Duo processors soon. With that in mind, when you plan on overhauling your computer or building a new Intel system all together, I think you'll find the Intel Core 2 Duo E6600 a very attractive choice.

When choosing an Intel Core 2 Duo processor, do your homework because cache size varies between models. For example mainstream oriented Core 2 Duo's come with 2MB of L2 cache, where as high end models have 4MB L2 cache. Tests have shown many times over that cache size makes a significant impact on overall performance.

All things considered equalled, enthusiasts like you are no doubt most attracted to the Intel Core 2 Duo E6600 because it offers the best mix of cache size and clock speed. The dual-core processor runs on a 1066 MHz FSB, comes clocked at 2.4 GHz and most importantly has a massive 4MB of L2 cache! The E6600 processor is built on Intel's 65 nanometer manufacturing process and comes in the Socket 775 form factor.

The Intel Core 2 Duo E6600 has a retail price of $354 CDN ($313 US, £164 GBP). The chip contains technologies like SSE3, Virtualization Technology (VT) and Enhanced Intel Speed Step Technology (EIST) which we'll discuss in detail later in the review.

Intel Core 2 Duo E6600 Processor

Tech Specs
Core 2 Duo E6600
Clock: 2.4 GHz
L1: 32+32KB
L2: 4096KB
Multipiler: 9x
Package: LGA775
Socket: 775
organic mPGA
Core: 65nm
Vcore: 1.125V-1.3525V
Cost: $313 USD
Like the Intel Pentium 4/D/XE and AMD Athlon64 series of processors, the Intel Core 2 Duo is designed to run both 32 bit and 64 bit software. To use Intel's latest and greatest chip, you will need a newer generation Socket 775 motherboard. First generation Socket 775 Pentium 4/D/XE motherboards might not be compatible with the Core 2 Duo because the power requirements are different. There are a variety of chipsets that support the Intel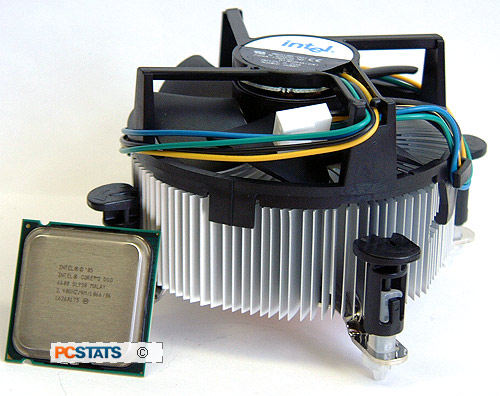 Core 2 Duo, including Intel's own 945-series, 965-series and the 975X Express. Third party chipsets include the VIA PT890, PT880 Ultra, SiS's 662, nVIDIA's nForce 570/590 SLI and nForce 650 Ultra 650i/680i SLI.
Again though just because a motherboard has one of those chipsets does not mean it's compatible with the Core 2 Duo processor, so check before hand if you are worried about compatibility issues! Motherboard manufacturers are aware of this issue and most have posted CPU compatibility charts on their websites.
The Intel Core 2 Duo processor does not draw as much power as the previous Pentium 4/D/XE class of CPUs, but do yourself a favour and equip your PC with an ATX 2.0 spec power supply. It will need an ESP12V connector, most high end motherboards come with the 8 pin 12V connector now. The Intel E6600 draws 65W as compared to a Pentium 4 940 which draws 95W.
Going hand in hand with the lower power consumption, Intel Core 2 Duo processor's also do not generate as much heat as the Intel Pentium 4/D/XE series. The Core 2 Duo is compatible with all Socket 775 heatsinks on the market, and if you do not plan to overclock the stock cooler that comes with retail processors is pretty good and most importantly operates very quietly.