Overclocking Results:
The Intel Core 2 Duo has an excellent reputation for overclocking as you know and we have heard some fantastic stories even on stock cooling. By default the Core 2 Duo E6600 processor operates at 2.4 GHz with a 9x multiplier running on a 1066 MHz FSB. We've teamed this processor up with the Asus P5B Deluxe motherboard and a nice 2GB set of Corsair's Twin2X2048-6400C4 DDR2-800 memory.
By default the Asus P5B Deluxe motherboard is clocked at 266 MHz FSB, and its speed will be increased in 5 MHz at a time. From the start the E6600 CPU was definitely up to our overclocking challenge! The system cracked through the 300 MHz FSB barrier (2.7 GHz CPU speed) without even breaking a sweat, with one FPU tied behind its back.
At 2.84 GHz (315 MHz FSB) the Intel Core 2 Duo E6600 started to display some stability problems, increasing the CPU voltage to 1.25V solved this. The Core 2 Duo E6600 went past 3 GHz or 334 MHz FSB. Shortly there after, the voltage had to be increased again, this time to 1.3 V, to hit 3.2 GHz (356 MHz FSB).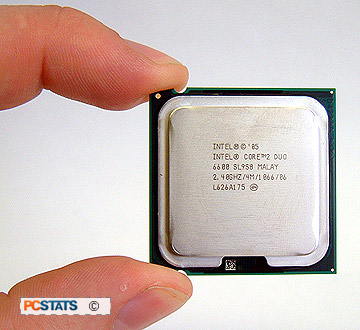 At this point the motherboard started to give us issues, increasing the Intel P965 Express voltage was then necessary. The E6600 was able to make it up to a whopping 3.4 GHz (378 MHz FSB) in the end! Both the chipset and CPU were running quite hot, additional cooling is definitely advised.
The overclocking tests were done with the stock retail heatsink. I would say 3.4 GHz from a 2.4 GHz Intel Core 2 Duo E6600 is pretty good. It's like overclocking with a Pentium 4 2.4C all over again. ;-) In the near future we're going to put the Core 2 Duo E6600 under the Prometeia Mach II GT's cold touch, and I know the processor will really fly. However that's a story for another time... Yes I know I'm a tease. ;-)
Prelude to Benchmarks - Test System Configuration
Over the following page we'll be running the socket 775 Intel Core 2 Duo E6600 processor though PCSTATS standard set of gaming, productivity, and 64-bit processor benchmarks. There are a wide variety of gaming and synthetic benchmarks here to illustrate what kind of performance boost users can expect from these latest, dual core 64-bit processor.
The specific details of how the Intel Core 2 Duo E6600 processor test systems were configured for benchmarking - including the hardware, software drivers, operating system and benchmark versions - are indicated below. In the third and fourth columns are the general specs for the AMD and Intel reference platforms that the dual core Core 2 Duo E6600 is being compared against.
Please take a moment to look over PCSTATS test system configurations before moving on to the individual benchmark results on the next several pages.

PCSTATS Test System Configurations
test system #1
amd reference system
intel reference system
processor:
intel core 2 duo e6600
amd Athlon64 FX-62
AMD Athlon64 X2 5000+
AMD Sempron 3600+
Intel Pentium D 840
Intel Pentium D 940
Socket:
Socket 775
Socket AM2
Socket 775
Clock Speed:
9 x 266 MHz = 2.4 GHz
14 x 200 MHz = 2.8 GHz
13 x 200 MHz = 2.6 GHz
16 x 200 MHz = 3.2 GHz
16 x 200 MHz = 3.2 GHz
Chipset:
Intel P965 Express
nForce 590 SLI
Intel 975X
Motherboards:
Asus P5B Deluxe
Asus M2N32SLI-DLX
Foxconn 975X7AA-8EKRS2H
Videocard:
MSI NX7800GTX-VT2D256E
Memory:
2x 1024MB Corsair XMS2-8500 DDR-2
Memory Latency:
4-4-4-12
4-4-4-12
5-5-5-15
Hard Drive:
74GB Western Digital Raptor WD740
CDROM:
AOpen DVD writer
AOpen Combo 52x
PowerSupply:
PC Power & Cooling TurboCool 510 SLI
Heatsink:
Intel Reference
Athlon64 FX-62 Reference Heatsink
Thermaltake Jungle 512
Software Setup:

Microsoft WindowsXP SP2
Intel INF 7.2.2
nVIDIA Forceware 91.27

Microsoft WindowsXP SP2
nVIDIA Forceware NF4 9.34
nVIDIA Forceware 91.27
Microsoft WindowsXP SP2
Intel INF 7.2.2
nVIDIA Forceware 91.27
Benchmarks:

32-Bit Benchmarks:
SYSmark 2004
Business Winstone 2004
Content Creation 2004
SiSoft Sandra 2005
Maya Render Test
Super Pi 1.1
PCMark05
3DMark05
3DMark06
Doom 3
Quake 4
FarCry
FEAR

64-Bit Benchmarks:
PCMark04
PCMark05
Cinebench 2003
ScienceMark 2.0
Mini-GZIP
DiVX Encoding

CPU Load 3D Tests:
Prime95 + 3DMark05
Prime95 + Doom 3
Prime95 + FEAR