The Intel Core 2 Duo and Socket 775 Pentium 4/D and Celeron processors are physically identical, but what's under the hood that is special! The Core 2 Duo series targets the higher end segment of the computer industry while the Pentium 4/D and Celeron go after mainstream and entry level markets.


Components on CPU are fragile, use caution when handling processor!
Intel plans to transition its Celeron line over to the Core 2 Duo architecture (the Celeron L), but we're still waiting for that to happen. The Core 2 Duo family lineup are as follows. Note the operating frequency and L2 Cache size differences and keep in mind that the Core 2 Quad Q6600 and Core 2 Extreme QX6700 have four processing cores, that's why there is 8MB of L2 cache.
Intel Socket 775 Core 2 Duo Processors

Processor Models

Thermal Design Power
Clock Speed
L2 Cache Size
Price
Intel Pentium D 960
130W
3.6 GHz
4MB
$344
Intel Pentium D 940
95W
3.2 GHz
4MB
$175
Intel Pentium D 840
130W
3.2 GHz
2MB
$163
Intel Core 2 Extreme X6800
75W
2.93 GHz
4MB
$962
Intel Core 2 Extreme QX6700
130W
2.66 GHz
8MB
$977
Intel Core 2 Duo E6700
65W
2.66 GHz
4MB
$532
Intel Core 2 Quad Q6600
105W
2.4 GHz
8MB
$834
Intel Core 2 Duo E6600
65W
2.4 GHz
4MB
$313
Intel Core 2 Duo E6400
65W
2.13 GHz
2MB
$229
Intel Core 2 Duo E6300
65W
1.86 GHz
2MB
$194
Intel Core 2 Duo E4300
65W
1.8 GHz
2MB
$169
Of the bunch, the Intel Core 2 Duo E6600 is easily the most appealing. It runs at a nice 2.4 GHz clock speed, comes with 4MB of L2 cache and is moderately priced at $313USD. The Thermal Design Power is 65W, where as a high end Core 2 Extreme X6800 has a TDP of 75W.
Intel's TDP figures are not compatible with AMD's power numbers, because Intel measures average power draw while AMD lists maximum. PCSTATS will give you a clear idea of how much power the Core 2 Duo E6600 processor draws in our upcoming power draw tests. For comparisons sake, it's obvious that the Core 2 Duo chews up less power than the older Pentium D series, in fact the E6600 is rated to use half the power of the Pentium D 840 or 960!
Power requirements should go down further as Intel refines its manufacturing process and as dies shrink from 65nm to 45nm. With the Intel Core 2 Duo line using 65W of energy, that heat output is pretty tame for a cutting edge chip. In fact many Core 2 Duo motherboards have options to turn off the fan completely during idle periods!
Technologies behind the Intel Core 2 Duo processor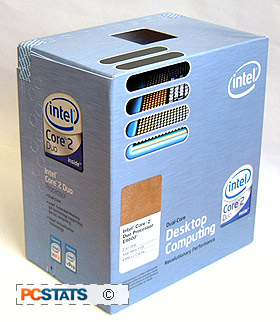 Built on Intel's 65 nanometer manufacturing process, the Core 2 Duo E6600 processor has 291 million transistors which take up 143mm2 of die space. The chip comes in a Socket 775 form factor and runs with DDR2-800 memory.
There are several innovative technologies integrated into the Intel Core 2 Duo E6600 processor, including SSE/2/3, Intel x32-64, the Execute Disable Bit, Virtualization Technology (VT) and Intel's Enhanced Speed Step Technology. PCSTATS has already covered SSE/2/3 technology, Intel x32-64 and the Execute Disable Bit in previous CPU reviews so we will focus on VT and EIST this time around.
Virtualization Technology Explained:
Running virtual operating systems on one computer system is gaining popularity, but ask anyone who's done it and you'll no doubt hear about compatibility, performance and stability issues. Intel has identified this and has integrated VT or Virtualization Technology into its mainstream processor to make virtualization run smoother. Code named 'Vanderpool', VT allows the processor to act as several CPUs working in parallel on the same machine.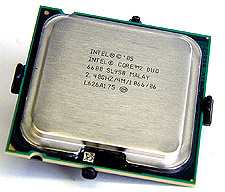 Traditionally, virtual operating systems do not have complete access to the computer hardware and must rely on the Virtualization Machine Monitor (aka VMM). The VMM emulates a complete set of hardware for each virtualized OS. Access to the hardware components is separated into different "Ring" levels, depending on the type and access of software. For instance Operating Systems like WindowsXP are given Ring 0 access which means it gets all the CPU resources. Programs like Microsoft Word running on top of the OS are allocated to Ring levels 1 or 3, restricting the software's ability access hardware for stability reasons.
Intel Virtualization Technology adds a new execution mode called VMX Root Operation (Virtual Machine eXtensions) where the VMM runs. This allows the virtualized OS's to run at Ring 0 natively and support software at Ring 1 or 3.
By giving software native ring support, it allows VMM's to be smaller, less complex and efficient which improves compatibility and performance of virtualized OS's. It's important that the Virtual Machine software you are running support these hardware features. If it doesn't, you won't be able to take advantage of this technology.
EIST-the new approach to desktop power savings
Enhanced Intel SpeedStep Technology originates from the notebook platform, EIST cuts unnecessary power usage and likewise heat output when the computer is idle or under light loads. In order to enable EIST, you must have a compatible processor, motherboard, BIOS and operating system. The Intel Core 2 Duo E6600, WindowsXP and Windows Vista all support EIST.

EIST is very similar to AMD's Cool 'n' Quiet although it's name is not as cool. Essentially at lower CPU usage, the motherboard will automatically decreases the CPU multiplier and CPU voltage, thereby the processor will run slower and use less energy. In the case of Intel's Core 2 Duo series, under light load the processor multiplier will be lowered to 6x. When the motherboard detects higher CPU loads, the multiplier will increase (in the Core 2 Duo E6600's case) to 9x.
With the popularity of distributed computing programs like Folding @ Home or SETI @ Home, it's important to remember that these applications keep CPU usage at 100% all the time. In this case EIST will not be able to save power or lower heat output.
Next up PCSTATS will run total system power tests to see how much power the E6600 draws in a standard system compared to several other current CPUs...