Abstract: The integrated ATi Radeon X1250 videocard is good for desktop 2D applications, but if gaming is in your cards you will need to install a standalone PCI Express x16 videocard...


85% Rating:

Home > Reviews > Motherboards > MSI K9AGM2-FIH
MSI K9AGM2-FIH Motherboard Highlights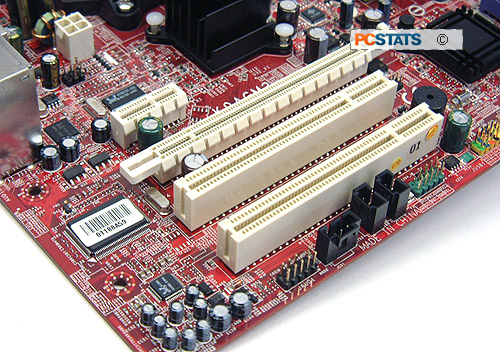 The MSI K9AGM2-FIH has one PCI Express x16 slot for videocards, one PCI Express x1 slot for high bandwidth devices and two PCI slots. At the bottom of the motherboard we find the IEEE 1394a header along with some audio jacks.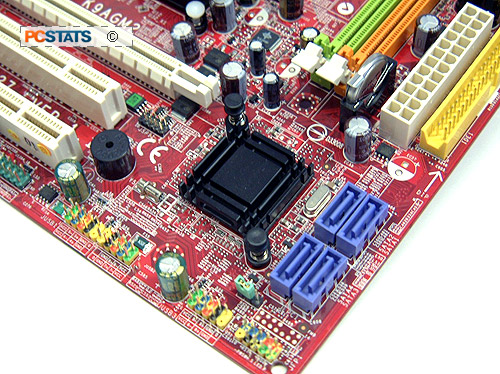 Four 3.0GB/s SATA channels enable RAID 0/1/10. The MSI K9AGM2-FIH relies on totally passive chipset heatsinks which are of course totally silent. In a nod towards user friendliness, the MSI K9AGM2-FIH colour coordinates and labels the positive pin values on its front panel I/O header along with the USB headers.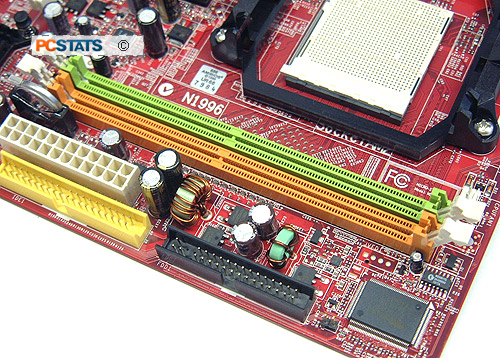 The 24 pin ATX, single IDE and single Floppy connectors are positioned to the right of the DDR2 DIMM slots on the MSI K9AGM2-FIH motherboard. The MSI K9AGM2-FIH only has two DDR2 slots, so install enough memory in your system right from the get go. The board has just one IDE channel.
MSI K9AGM2-FIH will work with 20-pin main ATX cable power supplies, but older units are not designed to handle the power requirements of modern computers with multiple videocards, so do yourself a favour and upgrade to a PSU with a 24-pin cable.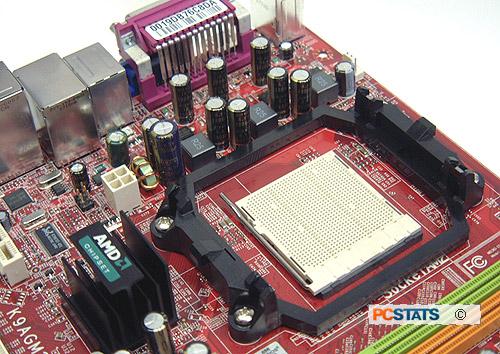 The AMD 690G chipset is located right next to the socket AM2 AMD processor, and there is a good deal of space for larger after market cooling solutions. The memory slots are up close against the CPU socket, so room on this side is a bit tighter.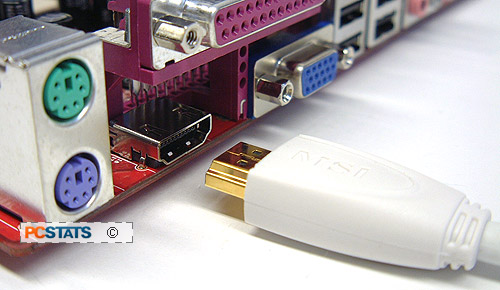 On the rear I/O we find the MSI K9AGM2-FIH's HDMI output. HDMI allows you to connect the motherboard to a high definition display (cable not included). The HDMI cable and connector are keyed so it can only be installed in one direction, and the cable carries both video and audio signals.