Whether you think the acquisition of ATi by AMD was a good move or not, it's clear AMD must start pumping out competitive motherboard chipsets if it is to flourish. The first official AMD chipset to come out after the merger is the AMD 690G, previously known as the ATI RS690, and it's quite a nice solution. The AMD 690G is a flexible platform, whether you are looking to build an office PC or a more adventurous home entertainment computer. The AMD 690G has the necessary connections, jacks, and features to run both disparate tasks comfortably.
Following the AMD 690G's introduction, motherboard makers scrambled to get boards out at a pace PCSTATS hasn't witnessed for some time. The 690G formed the basis of many affordable mainstream motherboards almost overnight, usually a good indication the of the momentum behind this core logic as an alternative to the popular but aging Geforce 6150. MSI Computer released the K9AGM2-FIH motherboard a few weeks back, and at by the looks of it this board should quickly displace any remaining VIA and SIS boards of an equivalent price class.
The MSI K9AGM2-FIH motherboard is obviously based on the AMD 690G Northbridge and SB600 Southbridge. The board comes in he MicroATX formfactor and supports all current Socket AM2 AMD Athlon64 X2/FX and Sempron processors. It has two DDR2 memory slots, so if you install 2GB modules this platform will accommodate up to 4GB of system memory. Given the requirements of Vista, you're better off saving a few dollars and installing 1GB modules from the start. Integrated onto the motherboard is practically everything but the kitchen sink. For today's modern computer user all the basics are well and truly covered. The MSI K9AGM2-FIH motherboard has first and foremost a an ATi Radeon X1250 videocard with HDMI support, Gigabit networking, IEEE 1394a, four Serial ATA II (w/RAID 0, 1 and 0+1), a High Definition Azalia 7.1 channel audio controller, eight USB 2.0 slots and a compact set of expansion ports.
The integrated ATi Radeon X1250 videocard is good for desktop 2D applications, but if gaming is in your cards you will need to install a standalone PCI Express x16 videocard... a little later in the review we'll illustrate this with some gaming benchmarks in Windows Vista. The MSI K9AGM2-FIH also has a PCI Express x1 slot and two 32 bit PCI slots for further expansion possibilities. Apart from the HDMI jack at the back the MSI K9AGM2-FIH is a pretty basic mainstream solution, and so it's no surprise to find it retailing for a really affordable $88 CDN, ($80USD, £40 GBP) through stores like Newegg and NCIX. Compared to some flagship motherboards PCSTATS has seen in the labs, that is incredibly easy going on the wallet.

MSI K9AGM2-FIH Motherboard



Includes:

User's Manual, Driver CD, Ultra/133 IDE Cable, Serial ATA Cable, Floppy Cable, Molex to Serial ATA Power Cable, I/O Shield
The MSI K9AGM2-FIH is a pleasant motherboard to work with, its connections and ports are laid out in an organized fashion so installation is a snap. MSI goes through the trouble of colour coordinating the USB headers along with the front panel I/O, talk about service!
Motherboard manufacturers can get away with smaller heatsinks on the AMD 690G and SB600 chipsets since the two generate very little heat. It's a nice change from nVIDIA based motherboards, as fast as they are, the nForce & GeForce are tiny ovens.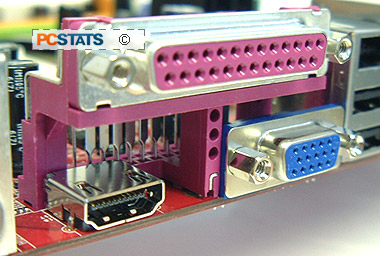 Looking at the rear I/O we find the killer feature of this board - HDMI. The MSI K9AGM2-FIH sports one HDMI connector, and this can be used to hook the PC up to a high definition television. HDMI replaces the component output and RCA video jacks with just one simple compact cable that provides better video and audio quality. The high definition multimedia interface is an all digital audio/video interface capable of transmitting uncompressed streams. It supports all TV formats, including standard, enhanced, and high definition video, plus multi-channel digital audio over a single cable. The board has a standard 15 pin analog monitor output for computer displays, but MSI chose not to include a DVI output on the K9AGM2-FIH. A shame, that takes away dual monitor support which can be a pretty big feature for workstation users. The HDMI outputs video at up to 1280x1080 so long as the monitor is HDCP compliant (the motherboard is HDCP ready).
The K9AGM2-FIH incorporates High Bandwidth Digital Content Protection (HDCP). This is a form of Digital Rights Management developed by Intel for high definition digital video and audio content. Whether you like it or not, the HDCP signal travels through the DVI or High Definition Multimedia Interface (HDMI) to HDCP compatible display's. This is intended to ensure that only legitimate High Definition content is played, if the HDCP keys don't match or are missing content plays at a reduced quality. This standard was spearheaded by the movie industry in an attempt to combat piracy, in any case the MSI K9AGM2-FIH is ready if HDCP truly does become a global standard.
So to recap, the AMD 690G supports HDCP and is Windows Vista compatible, has no less than two onboard video output options, and runs without any noisy chipset fan. Looks we've got a perfect little HTPC platform on our hands if it also stacks up in the benchmarks with a AMD Athlon64 X2 5000+ processor under the hood. PCSTATS answers that question next, but first let's look at the technology behind AMD 690G chipset.