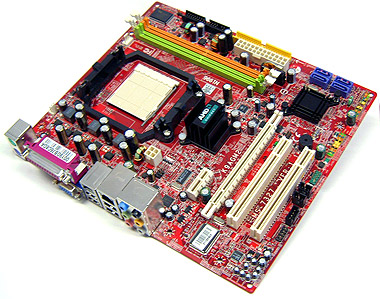 nVIDIA completely dominates the entry level AMD market, but with the arrival of the ATI RS690 / AMD 690G, AMD will give nVIDIA a run for its money. Feature wise the AMD 690G supports everything the new nVIDIA GeForce 7050PV does, and as you saw in PCSTATS's benchmarks the performance difference between the two is almost negligible.
The MSI K9AGM2-FIH motherboard is a good simple mainstream platform for building an AMD Socket AM2 motherboard. For 2D tasks, like regular office work, surfing the web and the like, this motherboard is a perfectly suitable and quite inexpensive. The onboard Radeon Xpress 1250 videocard handles 2D applications just fine, and is Windows Vista Aeroglass compliant. Better still, the onboard HDMI connector allows the MSI K9AGM2-FIH to output video at 1920x1080 (1080p), HDCP content included.
In the benchmarks we saw that the MSI Computer K9AGM2-FIH motherboard performed at about the same level as the new nVIDIA GeForce 7050PV, so the competition is likely to heat up between these two. When it came to the 3D stuff, the onboard Radeon Xpress 1250 videocard was quickly overpowered by the 3D games. Of course, the same is true for the GeForce 7050 onboard graphics card too. If you're a gamer, use the money you saved on the MSI motherboard and pick up a good PCI Express videocard like the GeForce 8800GTS 320MB. That is what PCSTATS tested this board with, and as you saw from the benchmarks it handled much better in 3D games as a result.
With a retail price of $88 CDN, ($80USD, £40 GBP), the MSI K9AGM2-FIH motherboard is an inexpensive choice no matter how you look at it. With HDMI and HDCP support, this board could be the foundation for the perfect little low cost PC or HTPC for your multimedia needs. With AMD venturing into chipsets now, it's good to know its 690G chipset can stand on its own two feet.
Find out about this and many other reviews by joining the Weekly PCstats.com Newsletter today! Catch all of PCSTATS latest reviews right here.
Related Articles
Here are a few other articles that you might enjoy as well...
- Biostar TF7050-M2 GeForce 7050PV Motherboard Review
- Biostar TA690G AM2 AMD 690G Motherboard Review
- Asus P5N32-E SLI Plus nForce 650i Motherboard Review
- ABIT AB9 Pro Intel P965 Express Motherboard Review
- ECS PN1 SLI2 Extreme nForce 590SLI Motherboard Review