AMD's AVIVO is a collection of different video technologies that share a common name, like Centrino or ViiV for example. First and foremost, AMD's AVIVO includes a hardware accelerator for MPEG-2/DVD Microsoft Windows Media HD video standards (WMV HD) and H.264 standards.
VIVO is built into the MSI K9AGM2-FIH's Radeon Xpress 1250 videocard and helps to enable such features as Home Theatre PCs (HTPC) or Personal Video Recorders (PVR) with the appropriate 3rd-party software applications. AVIVO can automatically adjust gamma and colour correction, and that should enhance picture quality too.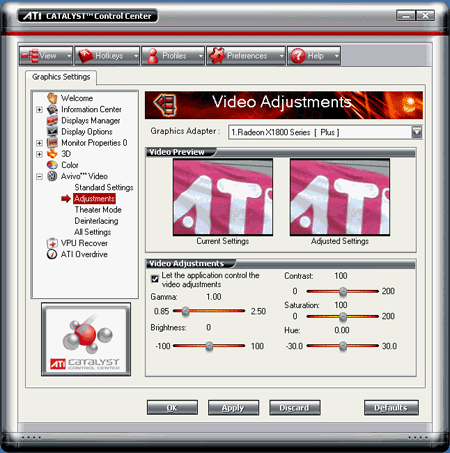 High Fidelity Colour allows for 10-bits per colour channel, which translated basically means a more vibrant picture. There is also a high quality 12-bit analog-to-digital converter to reduce picture noise as well.
To test AVIVO's HD accelerating capabilities, we played a HD video through Windows Media Player 10 (the movie can be downloaded from Microsoft's WMV HD Content Showcase) on the MSI K9AGM2-FIH motherboard. The Discoverers (IMAX) video is available in both 720P and 1080P formats, and CPU utilization was monitored during playback through Task Manager to give a general indication of system load.

When running the 720P version of the Discoverers video, AMD's AVIVO is able to greatly lower CPU usage and here it it jumped between 10-15%.

CPU usage when running the 1080P version of the Discoverers video was also very good and the program used between 12-17% of the systems resources. That's definitely very good, and low enough for you to run intensive services or applications in the background. The benchmarks are up next.