When you're glancing over the spec lists at your local PC store, it's easy to separate 1066 MHz and 1333 MHz FSB Intel Core 2 Duo processors from one another. The new chips that run with a 1333MHz FSB have the suffix '50' in their model numbers, ie. E6750 or E665 0. Core 2 Duo processors that operate on a 1066 MHz FSB continue to end in '00', ie E6600.
The only odd ball is the Core 2 Duo E6540, it is identical to the E6550 and the E6420 and E6320 which are 4MB L2 cache versions of a mainstream chips (usually only have 2MB of L2).
Along with the new 1333 MHz FSB CPUs, Intel has introduced a collection of new processors, which has had the effect of finally killing off the Pentium D line. These CPUs run at 800 and 1066 MHz FSB, and have between 2 and 4MB of L2 cache. Intel also released another Core 2 Quad and another Core 2 Extreme quad core processor.
Intel Socket 775 Core 2 Duo Processors

Processor Models

Thermal Design Power
Clock Speed
L2 Cache Size
Price
Intel Core 2 Extreme QX6850
130W
3 GHz
8MB
$1096
Intel Core 2 Extreme QX6800
130W
2.93 GHz
8MB
$840
Intel Core 2 Extreme QX6700
130W
2.66 GHz
8MB
$968
Intel Core 2 Extreme X6800
75W
2.93 GHz
4MB
$889
Intel Core 2 Quad Q6700
95W
2.66 GHz
8MB
$468
Intel Core 2 Quad Q6600
95W
2.4 GHz
8MB
$284
Intel Core 2 Duo E6750
65W
2.66 GHz
4MB
$206
Intel Core 2 Duo E6700
65W
2.66 GHz
4MB
$275
Intel Core 2 Duo E6600
65W
2.4 GHz
4MB
$313
Intel Core 2 Duo E6550
65W
2.33 GHz
4MB
$179
Intel Core 2 Duo E6420
65W
2.13 GHz
4MB
$197
Intel Core 2 Duo E6400
65W
2.13 GHz
2MB
$172
Intel Core 2 Duo E6320
65W
1.86 GHz
4MB
$177
Intel Core 2 Duo E6300
65W
1.86 GHz
2MB
$155
Intel Core 2 Duo E4500
65W
2.2 GHz
2MB
$155
Intel Core 2 Duo E4400
65W
2 GHz
2MB
$125
Intel Core 2 Duo E4300
65W
1.8 GHz
2MB
$118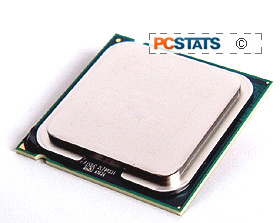 Intel has yet to release its Conroe-L Celeron based processors, so at the moment the Celeron D (which uses Netburst architecture) still occupies the entry level market. As you can see there's a much larger selection of Core 2 Duo processors available now and at $118, the Core 2 Duo E4300 is a real steal for those of you looking to put together a budget PC system. At $205 the Intel Core 2 Duo E6750 offers a mix of high speed, comfortable L2 cache size and low price. The Intel E6750 is easily one of the best processors in Intel's product lineup right now, in our humble opinion.
The Thermal Design Power values for Intel's Core 2 Duo/Quad/Extreme processors have come down from previous generations what saw levels broaching 125W. Yet Intel's TDP wattage value is not directly comparable with AMD's TDP figures because AMD lists maximum values instead of typical. According to Intel, all of its dual core processors except the Core 2 Duo X6800 have a TDP of 65W, the E6750 model included.
As we've mentioned, the Intel Core 2 Duo E6750 is simply a FSB boost. Compared to the previous Core 2 Duo generation there is no additional technology here. If you'd like to learn more about the technology that backs up the Intel Core 2 Duo E6750 please glance at PCSTATS' review of the Core 2 Duo E6600 processor.
Next up, performance per watt metrics as the Intel Core 2 Duo goes on the power meter to determine total system power draw. What do you think; will this be a 200W PC system, or closer to 150W? Place your bets!