If you're in the market for a new computer system, it's most likely going to be packing a shiny new Intel Core 2 Duo processor at its heart. Now don't get me wrong, PCSTATS is happy to recommend and use both AMD and Intel processors, we really have no preference. It's just that for the past while, Intel's Core 2 Duo has been the performance and energy efficiency king. AMD's upcoming K10 processor (code named "Phenom") is certainly going to be an interesting addition to the Athlon64 family, but we'll have to wait until PCSTATS tests that chip in our labs before we really know which is better.
If you haven't already heard, Intel recently injected fresh life into its Core 2 Duo 'Conroe' platform by increasing the front side bus speed from 1066 MHz to 1333 MHz. With a higher bus speed inevitably comes new motherboard platforms, new chipsets, and new memory standards. The new (mainstream) Intel P35 Express and high end Intel X38 Express chipset were made with the Core 2 Duo in mind, and both support DDR3 memory. On a side note, nVIDIA's nForce 6 series (680i, 650i) motherboard chipsets have been 1333 MHz ready since day one, of course if you go that route there's no DDR3 RAM support. To top things off, the 1333 MHz FSB CPU parts are a heck of a lot less expensive than Intel's 1066 MHz Core 2 Duo processors when they were first introduced. :D
Realistically speaking, this summer refresh of Intel's processor product lineup brings little to the table in terms of new technology. It mostly just extends Intel's performance lead over AMD's Athlon64, and it buys some time until the 'Penryn' emerges in Q4'07 or Q1'08.
The new 1333 MHz FSB Intel Core 2 Duo processors support Intel 64 technology, Enhanced Intel Speed Step (EIST), Execute Disable (XD), Intel's Virtualization Technology (IVT) and Intel's Trusted Execution Technology. That latter works in conjunction with compatible motherboards to protect the data stored on business PCs. Nothing new on any of these fronts.
Looking at the Pricewatch CPU list, it's hard to miss the fact that Intel's Core 2 Duo E6750 processor offers the best value of any socket 775 processor out right now. The 2.66GHz processor has a large 4MB of L2 cache (2MB per processing core), but costs just $218 CDN ($206 US, £103 GBP). The 1333MHz FSB Core 2 Duo E6750 processor is a veritable steal!

Intel Core 2 Duo E6750 Processor (1333MHz FSB)

Tech Specs
Core 2 Duo E6750
Clock: 2.66 GHz
L1: 32+32KB
L2: 4096KB
Multiplier: 8x
Package: LGA775
Socket: 775
organic mPGA
Core: 65nm
Vcore: 0.962-1.350V
Cost: $206 USD
Intel Core 2 Duo E6750 processor is physically identical to the Core 2 Duo E6600 and Socket 775 Pentium D processors; both are distinctive with their pinless Land Grid Array 775-pad package. While the Core 2 Duo E6750 is a Socket 775 CPU, it won't work in all Intel motherboards due to the lower voltage requirements of the Core 2 Duo processor.
At the moment only the Intel P35 Express, G35 Express, G33 Express and nVIDIA nForce 6 series (680i, 650i) motherboards are compatible with the 1333 MHz processor. Some motherboards with older chipsets have been released which support Core 2 Duo processor, while others with the same chipset do not. To ensure the Core 2 Duo E6750 works with the motherboard you have in mind, make sure the board list Core 2 Duo support first. With older Intel chipsets, bear in mind the CPU may run at a 800/1066 MHz FSB, instead of 1333MHz.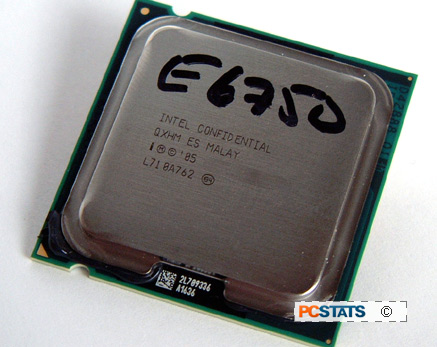 The Intel Core 2 Duo E6750 processor PCSTATS is testing for you today is remarkable for its power efficiency. The E6750 does not draw much power, having an typical TDP (Typical Design Power) of 65W.
The operating core voltage range has dropped slightly from previous versions to between 0.962V-1.35V. Earlier Core 2 Duo processor were based on a B2 stepping while the E6750 is using Intel's newer G0 stepping. Intel is still relying on a 65 nanometer manufacturing process, and the silicon die here is approximately 143mm2 in area and contains around 291 million transistors.
PCSTATS is testing an Engineering Sample Core 2 Duo E6750 in this review. Stock benchmarks will be identical to retail processors, but overclocking may see some advantages.
Power for modern PCs
If you're piecing a computer together you'll want to use an ATX2.0 spec power supply, preferably one with an ESP12V power connector (8 pin). Depending on what is going into your PC, you'll probably going to want to get something in the 500W range just to be safe. A power supply in the +700W range might be necessary if you're building a top of the line system with multiple videocards. Videocards draw considerably more juice than the 65W E6750 processor.
There was time when it looked like Intel would be releasing processors with heat outputs edging close to 150W! The Intel Core 2 Duo processor runs with a typical TDP of 65W, which is considerably cooler in terms of heat output. The Core 2 Duo E6750 will operate perfectly well with the stock Intel LGA775 heatsink, or a good after market heatsink. Even if the processor is mildly overclocked, the stock Intel heatsink has enough performance overhead to handle the job while keeping noise levels in check.