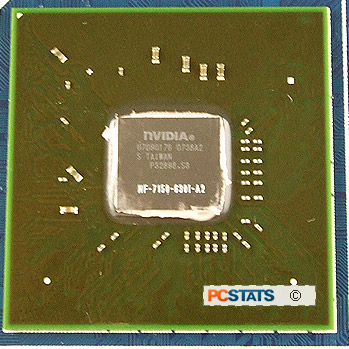 It's not much of a surprise that nVIDIA's GeForce 7-series integrated graphics chipsets are giving Intel's G33/35 chipsets much needed competition. On paper, the Geforce 7050 outclass Intel's integrated chipsets.
There are officially four different nVidia GeForce chipsets for the Intel processor platform; the 7150, 7100 and 7050 along with two Southbridge chipsets, the nForce 630i and 610i.
The GeForce 7150 and 7100 are paired with the nForce 630i while the low end GeForce 7050 goes with the nForce 610i.
All of these 7-series Geforce chipsets support Intel's current line of socket 775 processors, from the Celeron D to the Core 2 Duo family. The entry level GeForce 7050 only supports FSB speeds to 1066 MHz, while the GeForce 7150 and 7100 can handle 1333 MHz FSB.
All nVIDIA GeForce chipsets are built on TMSC's 80nm manufacturing process and the Northbridge and Southbridge chipsets are integrated into a single silicon die. This allows for compact microATX motherboards and costs to be kept down.
The nVidia GeForce 7150-nForce 630i supports nVIDIA's PureVideo and the onboard GeForce 7 series videocard is DirectX 9.0C and ShaderModel 3.0 compatible. In other words, the motherboard PCSTATS is testing in this review and the Geforce 7150 chipset are Microsoft Windows Vista Ultimate ready. The manufacturer recommends installing at the very least 1GB of system RAM because the GeForce 7150 onboard graphics chipset will grab a bit of system memory for its own use, up to 512MB in fact. PCSTATS recommends using at least 2GB of RAM for any Vista computer, as we discussed in this article.
nVidia's GeForce 7150 supports HDMI, although it's up to the manufacturer to implement it on the motherboard (in this case the jack is included). HDCP is supported by default through the HDMI and DVI port, that means you get to watch high definition content at maximum settings whether you're viewing it on your computer monitor or television.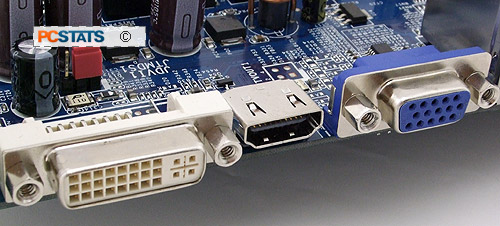 The really cool features of the Geforce 7150 are an integrated TV encoder, DVI and 15 pin DSub monitor support. nVIDIA's GeForce 7150 does support dual monitors (if the manufacturer allows for two connectors), but because of the chipset design one monitor (or TV) will have to use an digital signal like DVI or HDMI while the other uses the analog (like the 15 pin DSub or S-Video channel).
NVIDIA GeForce 7150 and NVIDIA nForce 630i
NVIDIA GeForce 7100 and NVIDIA nForce 630i
NVIDIA GeForce 7000 and NVIDIA nForce 610i
NVIDIA GeForce 7050PV and NVIDIA nForce 630a
NVIDIA GeForce 7025 and NVIDIA nForce 630a
NVIDIA GeForce 6150 and NVIDIA nForce 430
NVIDIA GeForce 6100 and NVIDIA nForce 430
NVIDIA GeForce 6100 and NVIDIA nForce 410
CPU
Socket 775
Socket AM2
Socket 939/AM2 Athlon 64/X2/FX / Sempron
PureVideo
Yes
DirectX 9.0c Shader Model 3.0 Support
Yes
TV Encoder
Yes
No
Yes
No
TMDS/DVI
Yes
Yes
Yes
No
Integrated HDMI
Yes
No
Yes
No
HDCP Support
Yes
No
Yes
No
Graphics Clock
630 MHz
600 MHz
500 MHz
425 MHz
425 MHz
475 MHz
425 MHz
PCI-Express
(1) x16 (2) x1
(1) x16 (2) x1
(1) x16 (2) x1
(1) x16 (3) x1
(1) x16 (3) x1
(1) x16 (2) x1
(1) x16 and (1) x1
MPEG-2/WMV9 Playback
high-definition (1080p/1080i)
standard definition
high-definition (1080p/1080i)
standard definition
Audio
HDA (Azalia)/AC97
Video Scaling
high-quality (5x4)
high-quality (5x4)
basic (2x2)
high-quality (5x4)
basic (2x2)
high-quality (5x4)
basic (2x2)
SATA/PATA drives
4/2
4/4
2/4
SATA speed
3Gb/s
RAID
0, 1, 0+1, 5
0, 1
0, 1, 0+1, 5
0, 1
NVIDIA MediaShield
Yes
NVIDIA ActiveArmor Firewall
Yes
No
Ethernet
10/100/1000
10/100
10/100/1000
10/100
USB ports
10
8
12
10
NVIDIA nTune Utility
Yes
In terms of expansion the GeForce 7150-nForce 630i chipset support a PCI Express x16 slot and up to two PCI Express x1 slots along with five PCI bus mastering slots. There are a total of 18 PCI Express lanes available within the chipset itself. The expansion configuration is entirely at the manufacturer's discretion. The motherboard chipset has an integrated 7.1 channel High Definition Intel Azalia audio controller which is standard fare these days.
The nForce 630i can handle up to four Serial ATA II devices (which support RAID modes 0, 1, 0+1 and 5) along with a single parallel IDE channel, most likely for 2 optical drives. There is a Gigabit Ethernet MAC integrated into the Southbridge, and finally ten USB 2.0 ports.
Up next, PCSTATS tries its hand overclocking the Biostar TF7150U-M7 motherboard, and then it's onto the benchmarks.