Overclocking Results:
nVIDIA and overclocking have gone together well in the past, so I have high hopes for the Biostar TF7150U-M7. The little motherboard was equipped with an Intel Core 2 Duo E6750 processor and 2GB of Corsair's Twin2X2048-8888C4DF memory. Starting at 1333 MHz FSB the clock speed was increased in 2 MHz increments.
Without much difficulty the Biostar TF7150U-M7 motherboard easily reached 1600 MHz (400 MHz bus speed for those of you who are not familiar). The CPU voltage required a bump to 0.3V above stock not much further than that.
The overclocking story ended pretty quickly, and the Biostar motherboard hit a maximum speed of 1760 MHz (440 MHz). Anything higher and the system was unstable. We have a feeling that the processor was the limiting factor as it was running well above stock. If the BIOS had CPU clock multiplier adjustments, the TF7150U-M7 may have overclocked much higher.
BIOS for an integrated motherboard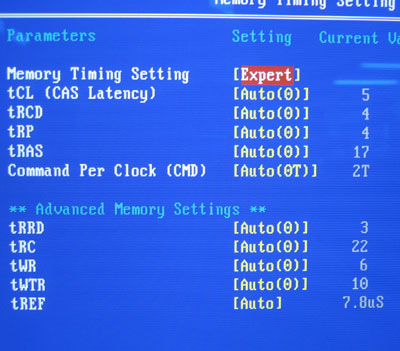 Biostar gives you a lot of memory timing options here with its TF7150U-M7 motherboard. There are enough settings to keep hardcore tweakers busy for quite some time.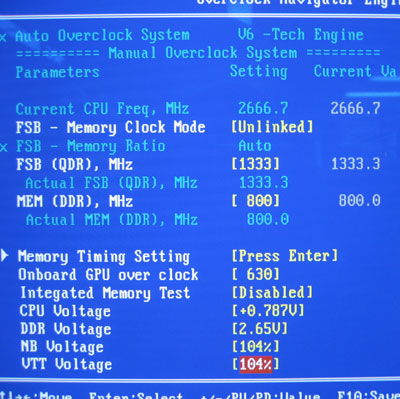 You can adjust the Biostar TF7150U-M7 motherboard between 400-2500 MHz (100-625 MHz FSB) as well as adjust the memory speed independent of the motherboard clock speed. You can adjust the onboard GPU speed (630 MHz default) as well as increase the voltage of the CPU 0.787V above stock, the DDR2 voltage to 2.65V and the NB/VTT voltages to 104%.
Prelude to Benchmarks
The details of how the Biostar TF7150U-M7 motherboard test system was configured for benchmarking, including the specific hardware, software drivers, operating system and benchmark versions are indicated below. In the second column are the general specs for the reference platforms this nVIDIA GeForce 7150 based system is to be compared against. Please take a moment to look over PCSTATS test system configurations before moving on to the individual benchmark results.

PCSTATS Test System Configurations
test system
reference system #1
processor:
intel Core 2 Duo E6750
Intel Core 2 Duo E6600 (775)
Clock Speed:
8 x 333 = 2.66 GHz
9 x 266 MHz = 2.4 GHz
Motherboard:
Biostar TF7150U-M7 (GF 7150)

Gigabyte GA-X38-DQ6 (X38 Express)
Asus BLITZ Formula (P35 Express)
Foxconn MARS (P35 Express)
MSI P6N Diamond (NF 680i)

Videocard:
MSI NX8800GTS-T2D320E
Memory:

2x 1024MB Corsair DOMINATOR Twin2X2048-8888C4DF (DDR2)

Hard Drive:
74GB Western Digital Raptor WD740
CDROM:
AOpen Combo 52x
Power Supply:
PC Power & Cooling TurboCool 510 SLI
Heatsink:
Intel E6750 Reference
Software Setup:

Microsoft Windows Vista Ultimate
Intel INF 8.30.1013
nVIDIA Forceware 163.75

Benchmarks:

SYSMark 2007
SiSoft Sandra XII
Super Pi Mod 1.5
PCMark Vantage
3DMark06
Quake 4
FEAR