Are you as excited about the high definition possibilities of a motherboard bound HDMI jack as we are? Good. Have a look at one of the latest boards from Biostar, the TF7150U-M7. This model is a mainstream oriented part, so it's affordable which is a nice bonus. Built on the nVidia Geforce 7150 and nForce 630i chipsets, the Biostar TF150U-M7 supports Front Side Bus speeds to 1333MHz, DDR2-800 RAM, and comes with the usual course of 8-channel audio, a dozen USB, Gigabit LAN, PCI Express x16, IDE and SATA with RAID. The integrated video is provided by the Geforce 7150 chipset, so the Biostar TF7150U-M7 also has DVI and Analog video outputs.
As a so-called integrated platform, the only real question is how the nVidia Geforce 7150 stacks up against the extremely popular AMD690G chipset?
PCSTATS has long been a fan of nVIDIA's integrated platforms because they work really well as the backbone for a small entertainment or workstation computer. All three major chipset companies have integrated core logic, and generally speaking each chipset is as powerful as the next. AMD and nVidia have better integrated videocards than Intel offers, no question there, but between nVidia and AMD the scale tips back and forth. The better option depends mostly on the collection of features you expect with your motherboard, AMD excels in some areas, nVidia in others.
The nVidia nForce 7150 is the companies latest integrated chipset, and first looks indicate it will give Intel G33 and G35 series a serious run for its money. Biostar is one of the first vendors out with a GeForce 7150 Intel Core 2 Duo/Quad compatible motherboard, and so far we like what we see with the TF7150U-M7 motherboard. The platform supports Intel Core 2 Duo/Quad/Extreme, Celeron D, Pentium 4/D/XE processors as well as Intel's upcoming 45nm CPUs.

Biostar TF7150U-M7 Motherboard



Includes:

User's Manual, Driver CD, 2x Serial ATA Cables, 1x Molex to Serial ATA Power Cable, Ultra/133 IDE Cable, Floppy Cable, I/O Shield
Biostar's TF7150U-M7 motherboard sports two DDR2 RAM slots that support up to 4GB of DDR2-533/667/800 memory. There's of course an onboard GeForce 7150 videocard which shares up to 512MB of memory with the system and supports analog, DVI and HDMI video outputs. The board also has four Serial ATA II ports, one IDE, a Gigabit network card, 7.1 channel high definition audio (2 channel audio HDMI output, a PCI Express x1 and PCI Express x16 slot for high bandwidth and standalone videocards, and two 32 bit PCI slots for whatever legacy devices you may want to plug into the computer. The Biostar TF7150U-M7 motherboard retails for a very economical price of $93 CDN ($95 USD, £45 GBP).
First Impressions
The Biostar TF7150U-M7 is a MicroATX form factor motherboard which makes sense since most people looking to build a multimedia machine want the computer to have a small footprint. Even though the motherboard is small, you get all the basics and them some in terms of features. The expansion slots mean that you can always customize things a bit should your needs change.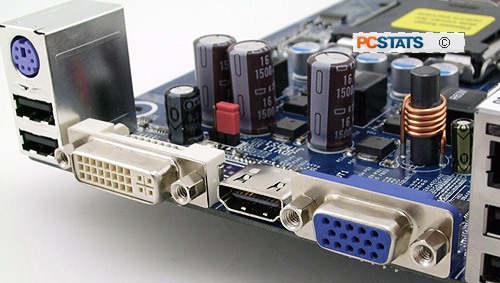 Biostar does the video output options right, and with the TF7150U-M7 motherboard you'll find the standard 15 pin analog and DVI video outputs along with a HDMI connector on the rear I/O. Hooking this motherboard up to the latest High Definition televisions will be an absolute breeze. What could have made things better is if Biostar stacks the analog and DVI displays, leaving room for more USB 2.0 slots. ;-)
Biostar does a fairly good job at labeling the PCB and inexperienced computer users should not have much problems setting up this platform. If you're a newbie you might want to keep the User's Manual handy.
Something that's rather refreshing is that the GeForce 7150 + nForce 630i (which are integrated into one chipset) do not generate much heat and can be cooled by a modest passive heatsink. It's a nice change from the cooling behemoths that we find on mainstream and high end motherboards these days.
In case you need the use of the parallel or Serial ports, there are headers available on the PCB. The necessary brackets are not included, but shouldn't be too hard to find at your local computer store. While the TF7150U-M7 is intended for the entry level market, it would have been nice if Biostar could include a USB expansion bracket or two. As it is, the TF7150U-M7 only has four USB 2.0 slots available to it.
Death of the PS/2?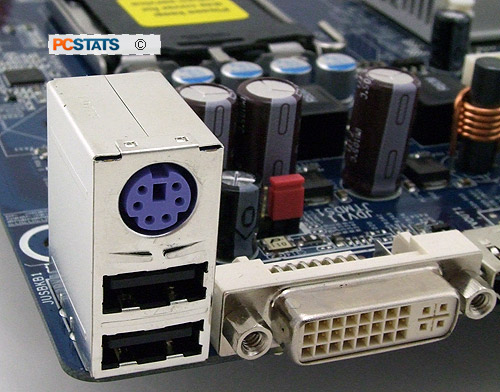 Has the PS/2 port finally outlived its usefulness? At least when it comes to the PS/2 mouse port, motherboard manufacturers are starting to remove that little green slot that we've become so familiar with... PS/2 is just another relic of old technology.
USB technology totally dominates the external peripheral market and everything that can be connected to the PC is USB compatible. Sure external devices may support other standards such as parallel or IEEE 1394, but going without USB would be suicide. With a demonstration of USB 3.0 and its amazing 4.8Gb/s of bandwidth, this standard certainly has a bright future.
I've been advocating motherboards come with more USB 2.0 slots for some time. Modern chipsets support between ten to twelve USB 2.0 slots. Having four slots on the rear I/O is now the bare minimum. Makers of computer cases have recognized the importance of front panel connectivity and almost every PC case, high end or $50 budget, support at least two USB 2.0 slots up front.
A high level of integration is necessary for today's PCs and even more important when it comes to home theatre or multimedia machines. After all wouldn't it be more enjoyable to look at those pictures you just took on a nice big LCD TV rather than regular computer monitor? ;-)
On a final note, the nVidia Geforce 7150 integrated videocard at the heart of Biostar's TF7150U-M7 is High Bandwidth Digital Content Protection (HDCP) compliant. HDCP s a form of Digital Rights Management developed by Intel for high definition digital video and audio content. HDCP protected signal travels through the DVI or High Definition Multimedia Interface (HDMI) to HDCP compatible display's. We'll touch on the Geforce 7150's other features a little later in this review.
Next up, PCSTATS takes a closer look at some of the highlights of the Biostar TF7150U-M7.