Abstract: In this review PCSTATS is testing out Foxconn's DigitaLife X38A motherboard, an Intel X38 Express and Intel ICH9R platform that supports both DDR2 and DDR3 memory formats.


90% Rating:

Home > Reviews > Motherboards > Foxconn DigitaLife X38A
Motherboard Highlights Photo Gallery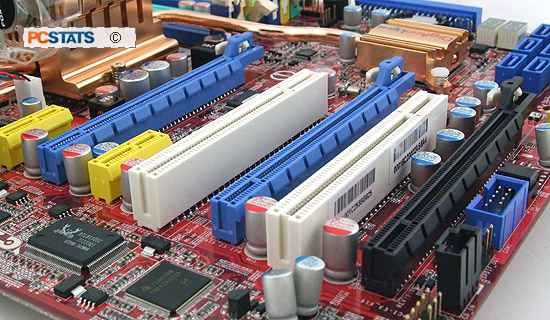 There are a lot of expansion opportunities with the Foxconn DigitaLife X38A motherboard. As you can see there are two PCI Express x1 slots, three PCI Express x16 slots (two are VGA ready) and two 32 bit PCI slots. If you still need the ability to use a Serial port, there's a blue header at the bottom of the motherboard.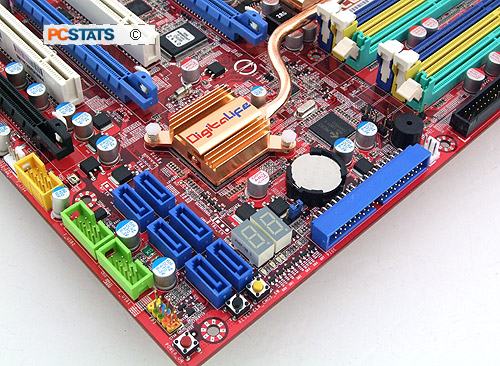 The bottom right hand corner of the Foxconn DigitaLife X38A motherboard is very busy; two USB 2.0 headers, an IEEE 1394a header, six Serial ATA II slots, the front panel I/O header, the Power/Reset/Clear CMOS buttons and CMOS battery. Note the Port 80 card by the lone IDE connector.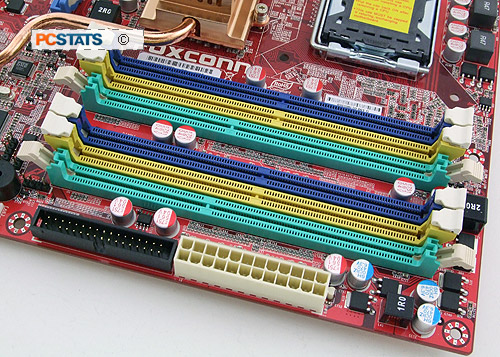 What makes the Foxconn DigitaLife X38A special is that it supports both DDR2 and DDR3 memory (although not at the same time). Up to 8GB of DDR2-1066 memory can be installed or 4GB of DDR3-1333 memory. To the right of the DIMM slots are the floppy drive connector and the main 24 pin ATX power plug. The DDR2 and DDR3 slots are keyd differently, as you can see in the photo below.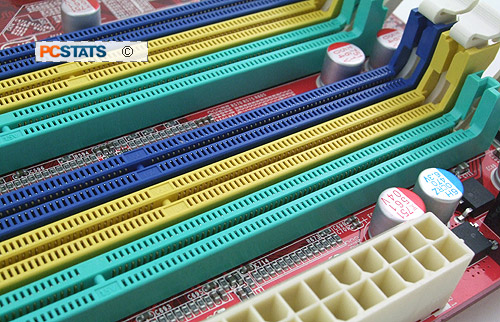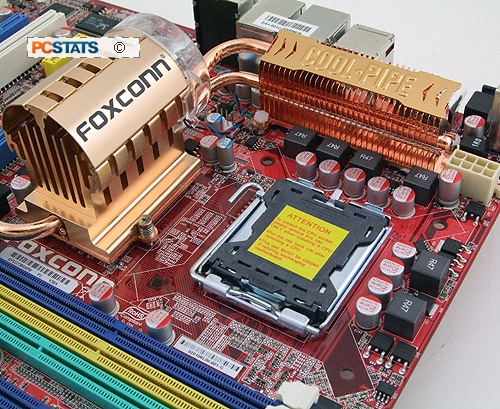 There is plenty of space around the Intel LGA775 CPU socket for big after market Intel heatsinks, water blocks or whatever your heart desires. The Foxconn X38A motherboard is cooled with a passive/active heatpipe cooling system that connects the chipsets and MOSFETs together.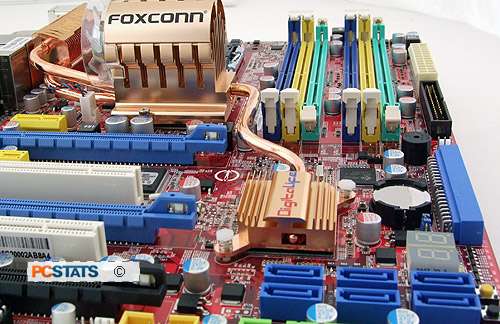 The Intel X38 Express Northbridge and ICH9R Southbridge generate a fair amount of heat, and as you can see Foxconn equip the DigitaLife X38A with an elaborate heat pipe based cooling solution dubbed "Cool Pipe." Heat from the Southbridge is conducted to the large Northbridge heatsink, then to the copper MOSFET heatsinks. A fan can be clipped on to give it an extra cooling oomph.
Time for some Foxconn overclocking!