Overclocking Results:
Foxconn have done an excellent job increasing the overclocking potential in its motherboards. Team that potential up with a chipset like the Intel X38 Express and you've got yourself a very exciting combination. The DigitaLife X38A is equipped with an Intel Core 2 Duo E6750 processor and a 2GB set of Corsair's DOMINATOR Twin3X2048-1800C7D memory. As usual the CPU's clock multiplier was set to 6x and the memory to run at DDR3-1066 MHz mode.
Starting at 333 MHz FSB the motherboard clock speed was increased in small 5 MHz increments. Without much difficulty the Foxconn DigitaLife X38A passed the 400 MHz mark. At 430 MHz the NB voltage needed a slight bump, to 0.2V above stock. That stabilized the motherboard and allowed it to go higher.
At 485 MHz the motherboard again started to show signs of instability, this time the voltage had to be increased 0.3V above stock. That allowed the Digitalife X38A motherboard to pass the 500 MHz barrier! Here's yet another awesome overclocking Intel X38 Express motherboard!
The Foxconn DigitaLife X38A motherboard overclocked to an amazing 555 MHz FSB and that is the highest we've ever pushed a motherboard! MSI, Asus and Gigabyte better watch out... Foxconn is taking names and kicking things up a notch!
The Foxconn BIOS: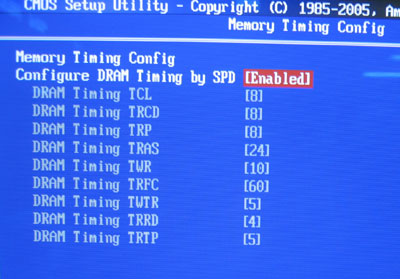 Foxconn gives you quite a few memory timing options, if you're good at tweaking you're definitely going to be spending some time in the Memory Timing Config menu.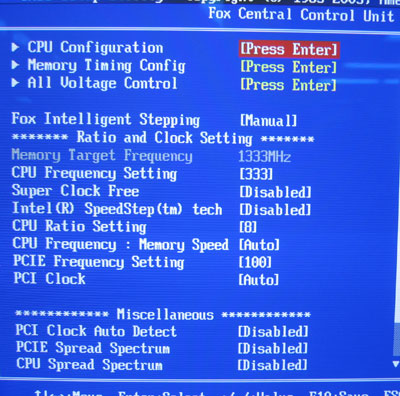 You can adjust the FSB from 333-800 MHz in 1 MHz increments and here you can also adjust the CPU clock multiplier. The other settings like PCI Express and PCI frequency should not be changed.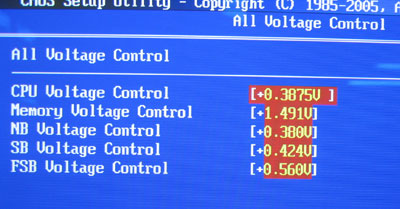 Here in the All Voltage Control section are the memory options. You can increase the CPU voltage 0.3875V above stock, memory 1.491V, NB voltage 0.380V, SB 0.424V and FSB 0.560V above stock. That's a lot of voltage (especially the CPU and memory) so use caution when increasing the values. The last thing you want is to fry your shiny new CPU or memory!
Prelude to Benchmarks
The details of how the Foxconn DigitaLife X38A motherboard test system was configured for benchmarking, including the specific hardware, software drivers, operating system and benchmark versions are indicated below. In the second column are the general specs for the reference platforms this Intel X38 Express based system is to be compared against. Please take a moment to look over PCSTATS test system configurations before moving on to the individual benchmark results.