Staying future-ready is a big challenge in the tech world, especially with the pace technology is made obsolete. The question facing consumers weighing the benefits of a DDR3 or DDR2-based Intel motherboards is one primarily of cost. Making matters more complicated, right now the performance difference between DDR3 and DDR2 remains slight. On top of that, DDR3 holds a hefty price premium over DDR2, and few of us are willing to shell out hundreds of dollars just so our PC will be future-proof for a next 12-24 months.
As with past memory transition periods, motherboard manufacturers are releasing products which will appeal to fence-sitters by supporting either DDR2 or DDR3 memory.
The good thing about these boards is that in the short term you can stay with inexpensive DDR2 memory, and when you're ready to get a quad core processor and DDR3 prices have come down to earth, you can switch to DDR3 RAM.
In this review PCSTATS is testing out Foxconn's DigitaLife X38A motherboard, an Intel X38 Express and Intel ICH9R platform that supports both DDR2 and DDR3 memory formats. The Foxconn X38A works with 45nm Core 2 Duo and Core 2 Quad processors, and every other socket 775 CPU that runs on a 800/1066/1333MHz Front Side Bus.
The DigitaLife X38A has four DDR2 and two DDR3 memory slots, these accommodate either 8GB of DDR2-1066/800 memory or 4GB of DDR3-1333 RAM respectively. Memory types cannot be mixed together though.

Foxconn DigitaLife X38A




Includes:
User's Manual, Driver CD, 6x Serial ATA cables, 6x Molex to Serial ATA Power Cables, Ultra/133 IDE Cable, Floppy Cable, USB/IEEE 1394a Bracket I/O Shield
As you know, the Intel X38 chipset supports AMD Crossfire for multiple videocard gaming. The Foxconn X38A board has two PCI Express x16 slots for graphics cards that operate in full PCIe x16 mode, and one (black) PCI Express x16 slot that runs in PCIe x4 mode for other peripherals. Two PCI Express x1 and two 32 bit PCI slots round out your expansion possibilities. In terms of data storage, the Digtalife X38A motherboard supports one IDE channel (RAID 0, 1, JBOD) and six SATA2 hard drives (RAID 0, 1, 5, 0+1) via the ICH9R southbridge. There are two eSATA ports at the rear I/O for external storage devices, which is always handy. External drive enslosures like this are almost a must-have, and eSATA transfer speeds are very quick.
Rounding out the Foxconn DigitaLife X38A's feature set are dual Gigabit network cards, a 7.1 channel High Definition Azalia audio controller, two IEEE 1394a ports (one header, one at rear I/O), eight USB2.0 ports, and something called the Foxconn Digital Connector. There are a few token nods to the overclocker and speed enthusiast, such as a totally silent heatpipe based chipset/MOSFET cooling system, a Port 80 card for diagnosing errors, and hard power and reset buttons. With a retail price of $233 CDN ($230 USD, £112 GBP), the Foxconn DigitaLife X38A is quite a bargain.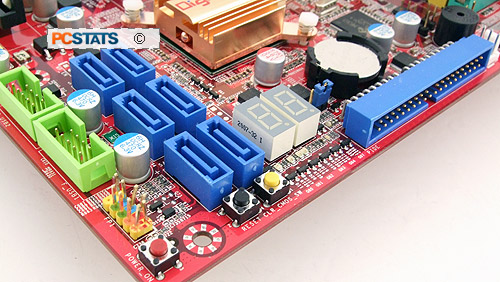 The layout of the Foxconn DigitaLife X38A motherboard is user friendly and all the ports and headers are placed in the proper locations and well labeled. There's plenty of space between the tow videocard PCI Express x16 slots so if you're installing a videocard with after market or dual slot cooling, there won't be space issues.
At the rear I/O we find four USB2.0 jacks, dual gigabit network jacks, a IEEE1394 firewire, two eSATA jacks, and the usual assortment of audio and digital/coaxial SP/DIF ports. The thin little jack that looks like an HDMI port is really a proprietory connector called the Foxconn Digita Connector (FDC), we'll talk about that more in a moment.
If you're a novice computer, you'll appreciate the colour coordinating the various ports, headers and memory slots. If you run into difficulty, the User's Manual is a great resource for information. The Quick Install guide has a ton of information too, and while it's in twelve languages, it should be able to guide you through the hardware installation process.
One thing we're happy to see is that Foxconn equips the DigitaLife X38A with a Port 80 diagnostics card instead of a custom solution.
The Port 80 standard has been around for over twenty years and most hardware enthusiasts are already familiar with its two digit alpha-numeric codes. Tweakers who prefer to build a PC in the open before installing it into a chassis will like the hard power, reset and clear CMOS buttons at fingers' reach.
Foxconn has opted to use only low ESR solid state polymer capacitors on the DigitaLife X38A motherboard. This kind of solid capacitor has a longer lifespan than the electrolytic variety. As temperatures increase inside the computer case, the lifespan of electrolytic capacitors begins to decline. Compared to standard Electrolytic capacitors which use a fluid electrolyte, the 'all-solid' style polymer capacitor last longer under the same conditions.
The solid-state Low ESR conductive polymer capacitors are housed in very distinguishable aluminum cans; they will not dry out, leak, or suffer gas buildup and burst. Good capacitors will not make your computer faster, but they can ensure it runs reliably longer.

Foxconn Digital Connector (FDC)
Okay, what is the FDC and what does it do?
At the back of the Foxconn X38A motherboard, sandwiched between the digital SP/DIF and dual eSATA ports is a thin black proprietary jack called the Foxconn Digital Connector (FDC). It looks like an HDMI jack, but isn't.
We can't tell you a whole lot about the proprietory FDC connector, other than its an upgrade route to future Foxconn digital lifestyle and entertainment products. Is the FDC for audio, for routing video, is it USB3.0... we don't know and Foxconn aren't elaborating about these "future digital and entertainment" products.
Next up, PCSTATS skims over the Intel X38 chipset, the motherboard high lights and then overclocking!