Lay your computer case down flat so that the motherboard and heatsink are facing you.
Using the flathead screwdriver, rotate the top of each of the fastener 'legs' of the heatsink 90 degrees counterclockwise. This will unlock the fasteners from the motherboard. Now pull up on each leg to release it, then remove the heatsink from the motherboard by lifting it up vertically. A slight twisting motion may be necessary.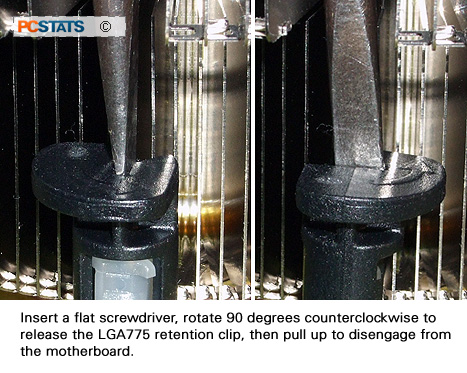 If you are planning to reuse the same heatsink, reset each of the fastener 'legs' by using your screwdriver to twist each one 90 degrees clockwise.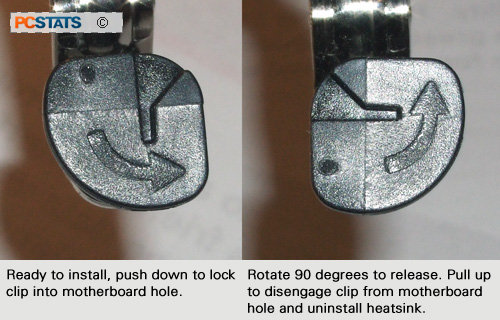 To remove the Intel socket 775 processor, first release the socket lever by pressing it down and away from the socket, then lift it up so that it hangs loose. Using the metal tab at the back of the load plate, lift the load plate up gently to expose the processor.
Pick the processor up gently with your thumb and forefinger. There are two gaps in the plastic wall of the socket that correspond to each finger, making it easier to grasp the CPU. Lift the processor vertically out of the socket and place it back in its plastic protective cover.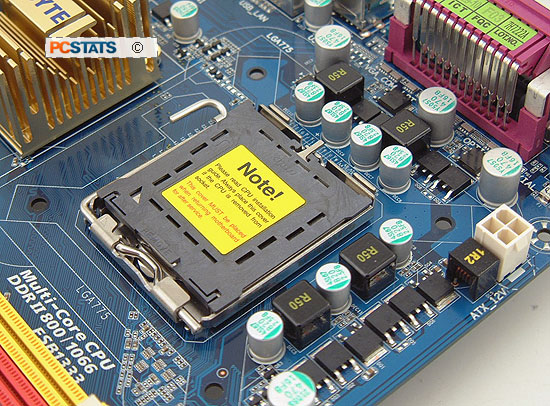 If you are not installing a new CPU, close the load plate then lock it back into place with the lever. Finally, snap the plastic protective cover back over the socket. You're done!
Find out about this and many other reviews by joining the Weekly PCstats.com Newsletter today! Catch all of PCSTATS latest reviews right here.
Related Articles
Here are a few other articles that you might enjoy as well...
- Intel Core 2 Duo E6750 2.66 GHz 1333MHz FSB Processor Review
- Intel Core 2 Duo E6600 2.4GHz Processor Review
- AMD Athlon64 X2 4800+ 65nm Processor Review
- Intel Pentium M 740 1.73GHz socket 479 Processor Review
- AMD Sempron 3600+ 2.0GHz Socket AM2 Processor Review
- Intel Pentium D 940 3.2GHz Dual Core Processor Review
- AMD Athlon64 FX-62 and X2 5000+ Socket AM2 Processors Reviewed