The Windows Vista page file (a file on your C: drive which Vista uses as extra system memory), is dynamic by default. This means that the operating system alters its size on the fly as extra virtual memory is needed. This adds some additional drive use overhead to its function, which can be negated by setting a fixed size for the paging file. The drawback of this is that your paging file will always consume a set amount of your hard disk, which will no longer be available for other uses. It's not a large amount though, and the performance advantages and reduction in drive activity can be noticeable.
To set a fixed size for your page file, Click on the 'start' menu and right click on 'computer'. Choose 'properties'. In the left-hand pane, choose 'advanced system settings'. Click the 'advanced' tab, then under the 'performance' heading choose 'settings...'
Choose the 'advanced' tab again, then under the 'virtual memory' heading click 'change...'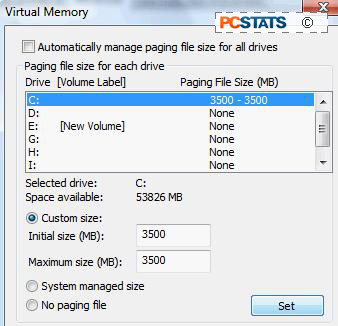 Uncheck 'automatically manage paging file size for all drives' at the top.
Highlight the drive that contains your paging file. Select the 'custom' size option below.
Now enter in an appropriate amount of space in the minimum and maximum boxes. A good guideline would be 1.5 x the amount of physical memory in your system, so set a 3GB page file for a system with 2GB of memory. You can drop this to 1X for systems with memory over 2GB though.
Click 'set' and 'ok' to finish.