Manually alter the amount of drive space system restore can eat up used to be easily accomplished in the properties window with Windows XP, but Vista hides the option, so a command line solution must be used.
The first thing you need to do is open an administrative command prompt, which is accomplished by opening the 'start' menu and typing 'cmd' in the search bar. Do not press ENTER. Instead, right click on the 'cmd' program in the search results, and choose 'run as administrator' from the options.
Now you have an administrative command prompt open, type 'vssadmin list shadowstorage' and hit ENTER.

This command shows you the amount of drive space currently allocated to system restore, as well as the maximum. To change this maximum amount, type the following:
vssadmin resize shadowstorage /on=c /for=c /maxsize= 2gb
The above example changes maximum system restore storage space on drive 'C' to 2GB, down from the 11.8GB shown in the picture. To change to your own desired size, simply substitute it into the formula. It needs a suffix (GB, MB, etc.).
Windows Vista disk cleanup manager and advanced disk cleanup
The venerable disk cleanup utility has been around for a while, though it's seen quite a few face lifts over the years. The Vista version of this utility is quite versatile and useful for cleaning out the dark corners and unused areas of your system, especially if you start to explore its hidden options.
By default, the disk cleanup utility (accessed by opening the 'start' menu and typing 'clean' then hitting ENTER) allows you to remove harmless file accumulations such as your temporary Internet files and the thumbnail files created when you browse folders in Vista explorer.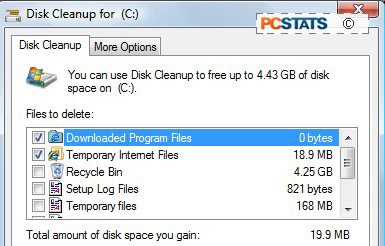 If you click on the 'more options' tab, you gain the ability to 'clean up' the system restore and shadow copy functions of Windows Vista.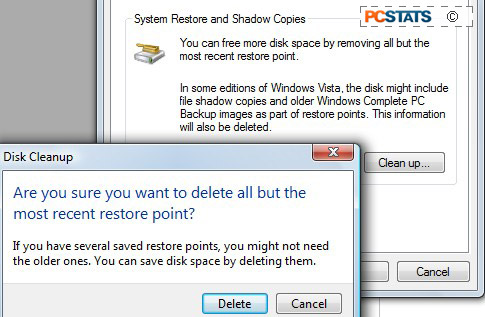 As in our section above on system restore, what this allows you to do is clean out older system restore points. The 'clean up' button deletes all but the most recent restore points (and document revisions, for users of Vista Business and Vista Ultimate's 'previous version' feature), which may regain you a LOT of space if you have been using your computer for a while.