Windows Vista's system restore feature is the single biggest offender when it comes to eating up drive space. By default, Windows Vista reserves a whopping 15% of your available space on each physical hard drive (or 30% of free space, whichever is smaller) for this feature. That's almost 75GB taken out of your 500GB drive! This space is not reserved, but will be taken in 300MB chunks each time a restore point is created, up to the maximum size specified. Now depending on how granular you'd like your restoration choices to be, this may seem a bit much... It certainly is as far as PCSTATS is concerned. Now you can disable system restore entirely, though you would be losing out on a potentially useful feature that can save your bacon in certain situations. You may prefer to simply reduce the amount of drive space available to the system restore feature. We'll show you how to do both shortly.
Now before our bias becomes too apparent, it should be noted that system restore for Vista includes a lot of features that were not a part of the XP version of the same application. The most notable addition is the shadow copy function, used for making and storing backups of system files. Unfortunately, system restore shares its drive space allocation with any other applications that use shadow copy, most notably the 'previous versions' feature available in Vista Business and Ultimate. This feature automatically stores multiple revisions of a document, allowing users to revert back to a previous version if desired. If you have either Vista Business or Ultimate and make use of this feature, do not disable system restore or limit the amount of space available to it excessively.
The most obvious way to recoup system restore's consumed space is to disable the feature entirely. This is easily done by navigating to the 'start' menu, typing 'backup' and hitting ENTER. In the left hand pane of the backup window, click 'create a restore point or change settings.'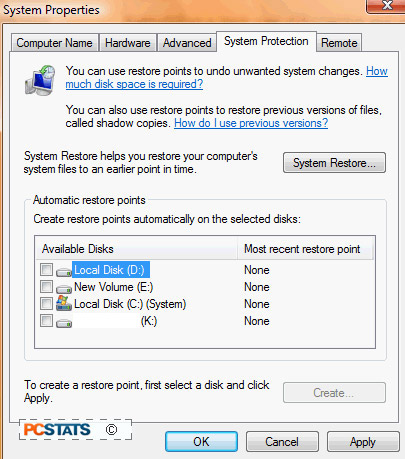 Under the 'available disks' heading, uncheck all entries. Confirm and hit 'ok'.
If you do not want to disable system restore entirely, you have a couple of options. First, you can clean out all previous restore points, recouping disk space both by deleting existing restore files and causing system restore to recalculate its usage based on the current fullness of your hard drive. To do this, follow the instructions above to disable system restore, then click the 'apply' button instead of the 'ok'. Immediately recheck any entries you removed, then click 'ok.' You have now recreated Vista's system restore settings, starting out with a clean slate.
The second option is to manually alter the amount of drive space system restore can eat up.