In a nutshell, WRP prevents programs from making changes to system files unless they fit into a strict 'approve' criteria defined by Microsoft.
The way that this is accomplished is a fair bit more draconian than the Windows XP method of doing the same thing, which simply ensured that critical system files were backed up and replaced when necessary. WRP actually prevents most system files being altered in any way by almost any program, which is a good thing, but can cause havoc for applications built for the Win XP environment.
Adding to the complexity is the fact that Vista is available in both 32-bit and 64-bit flavours. Just as with the 64-bit version of Windows XP, legacy software that works well with 32-bit Vista may fail completely on a 64-bit installation of the operating system. Unfortunately there are few ways round this particular problem, excepting a patch by the software's creator.
Always Check for Updates, Patches & Hot Fixes
The first and best compatibility tool in your Windows Vista compatibility troubleshooting arsenal is the Windows update service. Microsoft is constantly issuing compatibility patches for popular software titles, and has been since Vista came out. These are included with other updates in Vista's frequent updates.
If you have automatic updates disabled, check frequently to make sure you have the latest compatibility updates. You may also want to check with your software's manufacturer via their website, if available. The authors of many recent programs designed for XP have implemented compatibility patches to port their applications to Vista.
This may be all the help you need to get legacy software working correctly in Windows Vista, if you're lucky.
Vista's Automated Compatibility Helpers
Microsoft has added a couple of semi-automated tools to Windows Vista with the aim of keeping program compatibility as 'hands-off' a science as possible. The Windows Vista Program Compatibility Assistant, and the program Compatibility Wizard are the applications in question.
The program compatibility assistant (PCA from now on) comes into play when you attempt to install a program in Vista. If the program you are installing does not appear to be native to Windows Vista, PCA will swing into action. That is, if it does not follow certain procedures during the installation process or if it fails to install correctly or to create an entry in Vista's version of the 'add/remove programs' list.
The PCA will first notify you that your installation may not have gone as planned via the following message: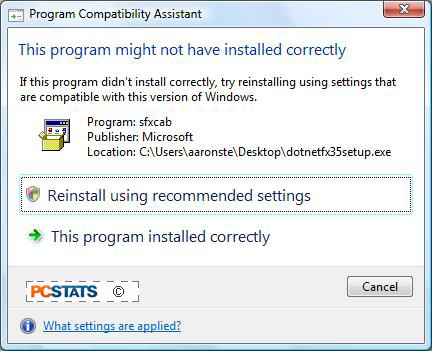 If given the go-ahead, it will try to rectify the problem using a number of methods. This includes running the program in Windows XP compatibility mode (see below) or by 'binding' the setup program to a jury-rigged Vista installer package to prevent it being blocked by Vista's User Accounts Control (UAC) feature.
A second feature of the PCA is to enforce software 'blocks' requested by software publishers to prevent their incompatible programs from being installed on Windows Vista.
Microsoft keeps a list of third-party programs which have been confirmed (by the software's publisher) to be incompatible with Vista to the extent that they may damage the operating system at a fundamental level.
This list is installed and updated on your system via Microsoft updates, and the PCA will prevent you from installing these programs via a system of 'hard blocks' (preventing a program from installing or running) or 'soft blocks' (bringing up a warning screen to inform you that the program you are attempting to install/use is incompatible with Windows Vista.